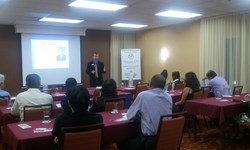 Expert keynote speakers and financial pros from the top notch company will also tackle about the different types of 401 k plans, their features, benefits and investment growth opportunities.
Orange County, CA (PRWEB) August 28, 2013
An educational event on real estate investments and the advantages of the self employed 401k plan will be sponsored by Sense Financial LLC for the investCLUB for Women. The premier real estate club for women is located in Southern California and is one of the area's strongest organizations for real estate investment. The club holds monthly meetings and offers the ideal venue for real estate investors, business owners, brokers, agent and entrepreneurs to explore and expand their network. The club is collaborating with California's leading provider of self-employed 401k plan to enhance and widen the horizon of club members about real estate investing and financial planning.
Sense Financial hopes to introduce club members to self-directed retirement accounts. Expert keynote speakers from the company will tackle the different types of 401k plans, as well as their features, benefits and investment growth opportunities. The event will also provide education and fundamentals about the Solo 401k solution, particularly its checkbook control features which allow plan owners to use their retirement funds to invest without requiring third-party custodian consent. The self-employed 401k plan also allows participants to use their funds to invest in both traditional and non-traditional assets such as real estate, foreign currency and precious metals among others.
The collaboration between Sense Financial and investCLUB for Women aims to increase awareness for the self-employed 401k plan. The company is one of the leading Solo 401k providers. Those who are looking for more information on real estate investing and financial planning are highly encouraged to join the organization and attend the meeting sponsored by the renowned 401k plan provider.
The monthly club meetings will offer education and opportunities to network for successful real estate investing today. Sense Financial plans to discuss in comprehensive detail how the self employed 401k plan could be a remarkable tool for long-term wealth building and financial freedom.
About Sense Financial Services:
Sense Financial is California's leading provider of retirement accounts with "Checkbook Control": the Solo 401k and the Checkbook IRA. Over the years, they have assisted hundreds of clients obtain checkbook control over their retirement accounts while providing them with the ability to invest in virtually any investment class, including real estate, private lending, mortgage notes and much more without the need for custodian approval.
To learn more about the solutions they provide, please contact: (949) 228-9393.