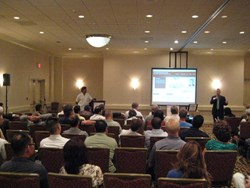 FIBI's meetings are a valuable venue for both beginners and experienced investors
Los Angeles, CA (PRWEB) August 21, 2013
The local investor and entrepreneur group, For Investors by Investors, also known as FIBI, is holding its monthly meet-up with investors in the Orange County area. Sense Financial LLC, the leading provider of self employment 401k retirement plans is sponsoring the meeting. There will be a comprehensive discussion about lucrative financial and real estate investing starting with information on the Solo 401k. Participants and club members will be given the basic and important information how to set up 401k along with its upsides and benefits, such as Solo 401k loan options.
The monthly meeting for the Orange County Investment Club is open for all investors looking for opportunities for investment education and networking. Participants range from real estate investors, money partners, brokers, real estate agents and brokers, lenders, wholesalers, joint venture partners, landlords, entrepreneurs and business owners. Attendees of the event will be given a clear overview for a thorough understanding of retirement plans for the self-employed, such as the self employed or Solo 401k retirement plan. According to Sense Financial representatives, FIBI's monthly meetings are a valuable venue to help both beginners and experienced investors learn more about real estate investments.
The Orange County chapter of FIBI aims to impart the tools and strategies needed in the current market. Based on the club's mission statement, the group was organized and created to forge unity and cooperation among business owners and investors. FIBI offers an educational and networking environment for real estate investors and business owners to exchange ideas, thoughts and learn from industry experts. Sense Financial Services has served as both sponsor and speaker at FIBI's events.
All Southern Californian investors and real estate entrepreneurs are invited to join the meeting every first Tuesday of the month. Sense Financial will be collaborating with FIBI Orange County chapter to help investors achieve financial freedom through lucrative retirement plan for self employed. The monthly meeting is hopes to provide an opportunity for education, with the aim of boosting the information of real estate investors today.
About Sense Financial Services:
Sense Financial is California's leading provider of retirement accounts with "Checkbook Control": the Solo 401k and the Checkbook IRA. Over the years, they have assisted hundreds of clients obtain checkbook control over their retirement accounts while providing them with the ability to invest in virtually any investment class, including real estate, private lending, mortgage notes and much more without the need for custodian approval.
To learn more about the solutions they provide, please contact: (949) 228-9393.