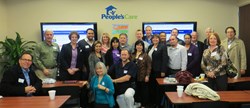 The self employed 401k plan offers advantages such as checkbook control
Los Angeles, CA (PRWEB) August 08, 2013
Last month's meeting of local real estate professionals featured a presentation on the self employed 401k retirement plan. The highly attended event had the President of Sense Financial Services as its keynote speaker. The company is California's premier provider and facilitator of self-directed retirement plans for the self-employed and small business owners.
The President of Sense Financial Services gave a comprehensive and extensive talk about the advantages of Solo 401 k plans. He gave the basics about this self employed 401 k retirement plan, such as Solo 401 k eligibility requirements. Solo 401 k contribution limits were also explained. For 2013, plan owners under the age of 50 can contribute up to $51,500 per year. Those who are age 50 and above can contribute up to $56,500 per year to the account.
The plan has various features that offer benefits and advantages to its account holders. Plan owners can use their retirement funds to invest in almost unlimited investment options, such as real estate, stocks and bonds, foreign currencies and precious metals. The Solo 401k retirement plan features Checkbook Control which allows plan owners to direct and conduct transactions without requiring custodian consent.
The Chino Valley Real Estate Professionals group (CVREP) is an organization or group created and developed to gather real estate investors, agents, brokers, business owners and others in the Chino Valley and nearby communities. The main purpose of this group is to provide up-to-date and essential education to its members while offering a venue to expand their network in the real estate industry. CVREP holds their weekly meetings every Friday morning.
The successful event delighted and inspired CVREP members to explore the lucrative and profitable real estate industry with self employed 401k retirement plan. Attendees of the meeting felt it was an enriching and educational experience, giving them important information about the retirement plan for real estate investing.
About Sense Financial Services:
Sense Financial is California's leading provider of retirement accounts with "Checkbook Control": the Solo 401k and the Checkbook IRA. Over the years, they have assisted hundreds of clients obtain checkbook control over their retirement accounts while providing them with the ability to invest in virtually any investment class, including real estate, private lending, mortgage notes and much more without the need for custodian approval.
To learn more about the solutions they provide, please contact: (949) 228-9393.