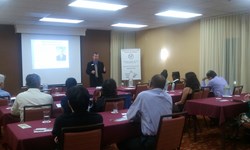 The self employment retirement account provider is pleased and honored to give 5% of its sales for the month of July to New Life USA Recovery.
Yorba Linda, CA (PRWEB) August 06, 2013
Sense Financial Services, California's leading provider of 401 k plans for small businesses, is announcing one of their charitable causes and sponsorship. The self-employment retirement account provider is pleased to give 5% of its sales for the month of July to New Life USA Recovery. Located in Cabool, Missouri, New Life USA is a non-profit organization and ministry that offers drug and alcohol rehabilitation without charge or payment. The organization, which started in February 5, 2007, is still in need of donations and financial support from the community with over 100 people on its waiting list. Those on the waiting list will be accommodated after the successful construction of the women's building on the property.
As one of the leading and most trusted Solo 401k providers today, Sense Financial Services continues to help investors make the most of their retirement savings. The company wishes to extend their help and support to more people through this sponsorship for the month of July. Five percent of its sales and proceeds from July will be donated in support of the alcohol and drug rehab ministry of New Life USA Recovery. The Missouri-based organization is using the donated amounts and contribution to the daily function and operations of the center including rehab, food and supplies.
Sense Financial has successfully given back to the community through its sponsorship and support of non-profit ministries such as New Life USA. The company is committed to its mission to provide help and support to its clientele, especially to retired investors who want to enjoy the fruits of their hard work. The company specializes in Solo 401k plans which are well-known and highly recommended retirement accounts for the self-employed. These plans offer innumerable tax benefits and allow account owners to invest their retirement funds in any industry from real estate to precious metals, stocks, bonds and foreign currencies. The 401k retirement account allows easy investment with its checkbook control features without requiring custodian consent.
About Sense Financial Services:
Sense Financial is California's leading provider of retirement accounts with "Checkbook Control": the Solo 401k and the Checkbook IRA. Over the years, they have assisted hundreds of clients obtain checkbook control over their retirement accounts while providing them with the ability to invest in virtually any investment class, including real estate, private lending, mortgage notes and much more without the need for custodian approval.
To learn more about the solutions they provide, please contact: (949) 228-9393.