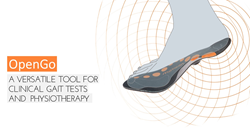 Soon we will see these devices move out of the gadget category and into a position as indispensible medical rehab and disease management tools
Boston, MA (PRWEB) September 18, 2015
The award-winning German-engineered sensor insole system, OpenGo, is now available in the US from zFlo, Inc. The company recently signed a distribution agreement with Moticon, GmbH, developer of the OpenGo Pressure measurement insole. OpenGo is the world's first truly integrated and fully wire-free sensor insole solution. The insoles are extremely robust and can measure many aspects of a person's movement, with obvious applications in sports-analysis and clinical gait analysis. In addition, the OpenGo system includes powerful analysis software that has been developed specifically for quick and straight-forward reporting of findings.
Though the OpenGo system looks and feels like an ordinary shoe insert - do not be mistaken - this is a powerful tool for qualitative analysis of human movement. Though not currently considered a "Consumer" device, the OpenGo represents a fundamental shift in the approach to measuring plantar pressure and gait data - out of the lab and into the world. zFlo is ecstatic for the opportunity to bring this incredible new solution to clinicians, coaches, and trainers in the US.
About zFlo, Inc
zFlo, Inc. is a US company that focuses on providing integrated motion analysis systems to professionals in the health, sports, and research industries. In business since 2002, zFlo, Inc. has extensive industry experience, with customers across the US and Canada. Moticon joins STT-Systems (Spain), CONTEMPLAS (Germany), and Myon (Switzerland) as zFlo partners around the world. For more information please visit http://www.zflomotion.com or write to info(at)zflomotion(dot)com.