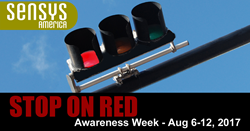 Stop On Red week brings awareness of people's driving habits to the forefront, something Sensys America does every day through red light camera photo enforcement...shown to change people's driving habits...
Orlando, FL (PRWEB) August 06, 2017
Sensys America celebrates National Stop on Red Week beginning August 6th to 12th by encouraging all drivers to pay special attention to slowing down at intersections and stopping at red lights.
During Stop on Red Awareness Week, Sensys America is hoping for a Zero Fatality week. Sensys America is looking forward to one week out of the year when there are zero fatalities from red light running. Sensys America CEO Carlos Lofstedt says, "We hope every week is a Zero Fatality week but especially during Stop On Red week!"
Stop On Red week brings awareness of people's driving habits to the forefront, something Sensys America does every day through red light camera photo enforcement, which has been shown to change people's driving habits in the locations where they are installed.
Accidents from red light running are the most preventable accident, while T-bone crashes from red light running can cause the most injury and deaths. Those hurt or killed are not usually the red light runner but passengers of either both cars, the other driver, pedestrians and cyclists.
"Red light running is an extremely selfish act because the driver isn't usually hurt. It's passengers and drivers of other cars, as well as pedestrians and cyclists, who suffer from this self-centered behavior. The long-lasting ripple effect is incalculable because, of course, the families and friends suffer as well," said Carlos Lofstedt. "We hope this week drivers will pay attention as they approach red light intersections and Stop on Red!"
What drivers can do:

Stop On Red.
Where right turn on red is allowed, make a full stop before turning right.
Look both ways before entering an intersection, even on a green light.
Signal Every turn.
Yield to other drivers and to bicyclists and pedestrians.
Being rushed and distracted by other things are some of the causes for red light running. This Stop On Red week, we ask drivers to remember, when they're behind a car, they're operating a piece of machinery that needs their full attention.
STOP ON RED EVENT: Meet Sensys America at the City of Orlando's Stop on Red Event August 11th from 9am to 11am at the location of the new Orlando Police Department facility at the intersection of Orange Blossom Trail and West South Street. Also participating will be the City of Orlando Transportation Department, Orlando Stops, Orlando Police Department, Orange County Sheriff's Office, Florida Department of Transportation, National Coalition for Safer Roads, Bike Walk Central Florida and the Florida Highway Patrol.
About Sensys America
Sensys America provides the most tested and widely used photo enforcement systems in the world with advanced technology for traffic safety and a commitment to reducing fatalities to zero. Sensys America, is a privately held company headquartered in Orlando, Florida with a US client base that includes customers in Florida, Alabama, Tennessee, Rhode Island and our nation's Capital, Washington D.C. Sensys' team of photo enforcement experts provides decades of combined experience developing, installing and operating photo red light and speed programs in the United States and throughout the World.
For more information about Sensys America visit http://www.sensysamerica.net
###
Contact:
Matina Vourvopoulos
Cell: 401-999-7909