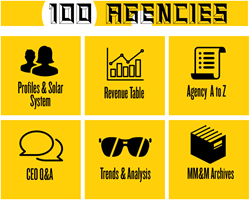 "We are extremely proud of the progress we have made, the recognition we have received from MM&M, and most importantly, the reception we've received to our results-driven approach." - Adam Cossman
Morristown, N.J. (PRWEB) August 23, 2016
Sentient (besentient.com) has been selected by Medical Marketing & Media (MM&M) as one of the Top 100 agencies of 2016. MM&M is the leading journal for pharmaceutical marketers.
In 2014 and 2015, Sentient experienced 28% and 37% growth, respectively. So far this year, the digitally focused agency has won 20 awards for excellence in online marketing, bringing its total to 133 awards over its 8-year history. Sentient has also been nominated by MM&M for another honor, Best Consumer Branded Website, for the statin medication, LIVALO®. In addition, Sentient opened a New York office in June, and experienced a spike in hiring, closing in on nearly 60 employees between the two offices.
Adam Cossman (Partner, President) stated, "We are extremely proud of the progress we have made, the recognition we have received from MM&M, and most importantly, the reception we've received to our results-driven approach." Jeff Rohwer (Partner, Strategy) added, "From our beginning, we have executed a plan that mixes the best in creative digital experiences with a rigorous metrics-driven model, working with clients to define strategy and their most impactful parameters for success."
Walter Stevenson (Partner, Operations) noted, "With all disciplines on deck—creative, technology, and media-management capabilities in house—we can be nimble and adjust, if needed, for maximum return."
Still, in the fast-moving, competitive world of pharma advertising, Sentient's agile execution is guided by the principle Jeff Rohwer calls, "phragile" (pharma + agile marketing). He explains: "In pharma marketing, although we may need to move quickly, our response is always with care and respect for industry guidelines."
All the partners agreed that at its foundation, Sentient's success is based on transparency. Cossman noted, "When clients know exactly where their money is going—and see the analytics the agency constantly applies to spend their dollars more and more efficiently—clients know they can trust us."
For more information, please visit besentient.com.
ABOUT SENTIENT
Sentient Interactive, LLC, is a digital-first, metrics-driven marketing agency with expertise in technologic solutions to drive measurable results for its clients. Since 2008, Sentient has provided services to clients in diverse industries, including life sciences, financial services, and consumer packaged goods. Sentient now has more than 55 staff members at offices in New York City and New Jersey.
SOURCE: Sentient Interactive, LLC
RELATED LINKS
http://www.besentient.com