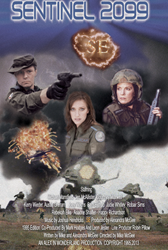 Sentinel 2099 SE: A Classic Sci-Fi Flick, Just Like the Good Ol' Days
(PRWEB) April 30, 2014
They just don't make 'em like they used to.
That's the way Mike McGee of Burkbank, Calif., feels about science fiction movies. A sci-fi fan from early childhood, McGee delighted in films like the original Planet of the Apes, 2001 A Space Odyssey and Star Wars. He still works in the movie business and owns a special effects company called Alex in Wonderland. He was on the team that did the costuming and special effects for blockbusters like Armageddon and Minority Report.
"Although it's great to work on these wonderful movies, it's always been my dream to make sci-fi movies, originals that hark back to the masters of science fiction," said McGee. "Movies with grand themes and amazing visuals. We're on the verge of completing such a film."
It's Sentinel 2099 SE, a classic sci-fi action adventure featuring traditional special effects and creative story telling with classic movie monsters and alien invasions. The film takes place in the post-apocalyptic world of the 21st century where the Unified Commonwealth struggles to restore civilization to the survivors of the Great Plague. A constant state of war exists as the female-dominated army of the Commonwealth must fight the plague-scarred, male-dominated Bandits of the Marchlands.
The live action photography is finished but McGee needs $25,000 of additional funding for visual effects, post-production, sound and mastering.
"We're huge proponents of traditional special effects," he explained. "We'll be creating and shooting visual effect shots with miniature models, smoke, miniature explosions, creature suits and traditional make-up effects."
In order to generate this capital, McGee has launched a Kickstarter campaign, which can be viewed at http://www.kickstarter.com/projects/1696255477/sentinel-2099-se-a-classic-sci-fi-action-adventure.
Through Kickstarter, sci-fi movie fans can make donations to support this project. Depending on their contribution levels, backers will receive credits at the end of the movie, digital downloads, posters, DVDs, CDs of the sound track, Blue-Ray versions, posters, T-shirts and props actually used in the film.
McGee is counting on science fiction fans all over the world to help him complete the film. "If you want to see a sci-fi story that harkens back to the post-apocalyptic sagas of Damnation Alley or films like Omega Man and Planet of the Apes, please give us your support," he said.
For further information and scenes from the film, visit http://www.kickstarter.com/projects/1696255477/sentinel-2099-se-a-classic-sci-fi-action-adventure or the Sentinel 2099 SE Facebook page, http://www.facebook.com/pages/Sentinel-2099-SE/277490989080430?ref=hl.
McGee can be reached directly at mike(at)alexinwonderland(dot)com.