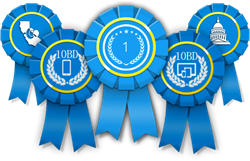 Prominent SEO web design company Blue Fountain Media sits atop the prestigious list...
San Francisco, CA (PRWEB) June 09, 2014
Renowned awards organization 10 Best Design (10BD), an internationally respected ranker of website design firms on various measures, has released their highly anticipated 2014 list of the 10 firms best excelling at both SEO and web design. Acknowledging that achieving both successful SEO and pleasant aesthetic design are pivotal to reaching the top of search engine results, 10 Best Design celebrates the masters of these arts and holds their practices as examples to which other firms should aspire.
Accolades awarded by 10 Best Design are recognized across the globe, and the companies on their lists are the biggest in the industry, catering to multinational corporations and the American government. Adapting to changing search engine algorithms has become increasingly difficult over the past few years, yet a few firms have managed to stay ahead in the race.
Prominent SEO web design company Blue Fountain Media sits atop the prestigious list, adding to its growing list of achievements. Judges cited custom written content laced with careful keyword placement and mention of brand names as the company's strengths, which have earned it large clients like AT&T, Disney and NASA. Additionally, the judges praised Blue Fountain Media's knack for creating websites and accompanying mobile apps from scratch as well as its effective social media campaigns and meticulously strategized placement of pay-per-click advertisements.
The number two spot goes to Big Drop Inc., noted for its impressive interactive and adaptive designs, creative use of disparate SEO tactics and quick turnaround time. Clikzy Creative is in third place because of its stellar full-time customer service staff, which has also earned the firm mentions by Computerworld, Visibility and SEOmoz. Comrade, to which 10 Best Design previously awarded the title of "Best SEO Design Firm (U.S.A.)", comes in fourth thanks to its comprehensive approach to SEO that includes professional logo branding and supplemental print materials. Dotcomweavers rounds out the top five based on its large customer base of over 300 clients, the ability to create online stores that include shipping programs and an uncensored comments section on its website, which projects confidence and tells prospective customers what to expect.
The entire list can be read on 10BD's Best SEO Web Design Firms. The website has also announced that future top 10 lists will include categories specifically for best search engine optimization and other online marketing categories on their recently launched sister website, 10 Best SEO.