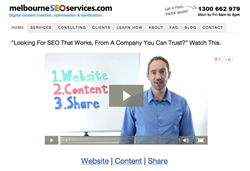 Powerful content is easier and cheaper than you think. We can show you how to turn one day's work into months of great content.
Melbourne, Australia (PRWEB) December 24, 2014
Search optimisation and online marketing are changing, but what remains constant is the fact great content plays a major role to the success of any business online. To get what they believe is now 'modern SEO', content marketing leader Melbourne SEO Services recently published a video on their home page about what has to be included in SEO marketing for 2015.
"Old school SEO doesn't give enough bite anymore," says David Jenyns, Director of Melbourne SEO Services. "It is harder today because Google wants to see if you're the authority in your niche before it gives the Google love you've always wanted."
Those wanting to rank highly on Google know the acronym EAT, which stands for 'Expert, Authoritative and Trust'. Jenyns' new video explains how that authority can be achieved with the help of the following:
1) Website. It's the face of the business and needs to be engaging and useful. Focus on the user first and SEO second.
2) Content. It should be of the highest quality, fresh and of value. Quality content is the anchor to which every other component of an SEO strategy is fixed to.
3) Share. Great content is useless if nobody sees it. The 'build it and they will come' notion doesn't work. A syndication system has to be set in place otherwise even the best content will begin to grow cobwebs all over it.
Jenyns continues, "Most business owners think that creating content is hard, when in fact, they create it every day with the daily running of their organisation." The content marketing expert emphasises that his team can make the entire process easy, smooth, and valuable – even in years to come.
"Powerful content is easier and cheaper than you think. We can show you how to turn one day's work into months of great content," says Jenyns who invites everyone to check out what the new SEO for 2015 is going to be on his company's home page: http://www.melbourneseoservices.com/.
The Melbourne-based online marketing experts have a variety of options available, including complete "done for you options, as well as do it yourself."
About Melbourne SEO Services
MelbourneSEOServices.com is a full service online marketing consultancy, based in Australia, but with a worldwide client base. Known for being at the cutting edge of strategic online marketing practices, the company delivers a growing suite of services including: on-page and off-page search engine optimisation, article distribution, Google Places listing, press release services, web video production, one-on-one consulting and much more.
Melbourne SEO Services Director, David Jenyns, has, over several years, built a team of experts who are niche experts to support the business, and who share his ethos for ethical, professional internet marketing.