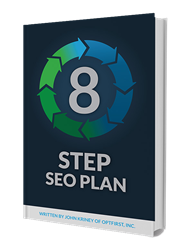 The system leads to genuine online results and true return on marketing investment for those who use the "8 Step SEO Plan". John Vincent Kriney
Miami, Florida (PRWEB) April 04, 2014
John Vincent Kriney, OptFirst's founder, releases the "8 Step SEO Plan". The book lifts the curtain revealing how his system "changes an esoteric process into a tangible product." He discusses his frustration with his own industry, Search Engine Optimization, and highlights how to navigate through the impostors in the online marketing field.
With charming quotes and real life experiences, John Kriney takes us on a journey with him through years of marketing brick and mortar businesses online. Using the "8 Step SEO Plan", his competitive nature and sheer determination, John Kriney has led hundreds of clients to the first page, often the first position, on search engines. Many of these businesses would have been eaten up by online competitors, but through his "8 Step SEO Plan" he helps them become thriving online enterprises.
The book explains how each sequential step builds on the foundation of the previous step to maximize online marketing results. The system uses an intuitive and systematic approach to increase a 'real' company's online placement ethically and within search engine guidelines. The system leads to genuine online results and true return on marketing investment for those who use the "8 Step SEO Plan".
12 years of hard work and 1 white light experience forged the "8 Step SEO Plan" and now John Kriney shares it with business owners and all interested in online marketing alike. From defining what SEO is to what comprises a successful SEO plan, John Kriney has certainly broken down the process in a way even the most technologically challenged can easily grasp.
To find out more visit 8StepSEOPlan.com or to purchase the newly released Kindle version click here.