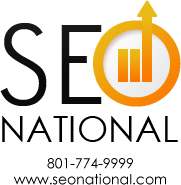 'Content continues to become an increasing part of our fulfillment. We're excited to bring in a new member to our firm.' He continues, 'Our copywriter's tasks will focus on unique news about our clients and building brand awareness in their target market.'
Salt Lake City, Utah (PRWEB) March 02, 2014
SEO National, a Utah internet marketing agency, announces the hiring of an in-house copywriter to their team. The new addition to the team will support the growing demand for optimized content curation and client-specific press releases
Lead Marketer, Damon Burton, comments, "Content continues to become an increasing part of our fulfillment. We're excited to bring in a new member to our firm." He continues, "Our copywriter's tasks will focus on drafting unique news about our clients and sharing their information to build brand awareness in their target market."
With SEO National's extensive knowledge and years of experience with search engine optimization in Utah, they know that persuasion is the key in copywriting. To help their clients share their brand and what they offer to the masses, SEO National regularly sends topics and press release tips. This ongoing communication allows clients to share with the public their latest accomplishments, news, and bragging rights. Once a client has something to share, SEO National's copywriter can help eloquently express the topic into a sharable piece of content.
Having a copywriter on-hand allows clients of SEO National the opportunity to share their brand quicker than the competition. This is important since Google algorithms often favor websites that feature "fresh" content. That is what SEO National wants to capitalize on; making sure to keep clients on the top of Google by continually sharing information and branded materials about their clients.
About SEO National
SEO National's management has been in the industry of web design and internet marketing since 1999. While based out of Utah, they fulfill internet marketing for clients across the country. Their main focus of marketing is SEO, an acronym of "search engine optimization." Search engine optimization is the process of improving the quality of local business websites to increase the volume of traffic from search engines. SEO is a great opportunity for companies, large or small, to pursue increased brand exposure and revenue by driving sales or qualified leads to their website from search engines.
For more information about copywriting services or to get a free website optimization audit, visit seonational.com or call 1-855-SEO-NATL (736-6285).