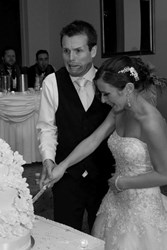 Who knows, maybe it'll inspire a few grooms out there, too
Melbourne, Victoria (PRWEB) July 17, 2013
On Friday 12 July, 2013 the Director of Melbourne SEO & Video Production Mr. David Jenyns released footage of a big surprise to his new bride at their wedding reception. The online marketing and video expert planned for months to shock his fiance at on their wedding day by serenading her with 'Grow Old With You', a song made popular by Adam Sandler's "Wedding Singer" movie released back in 1998. "I spent two months in singing lessons so I could perform this song" says David, "and the look on her face was well worth it!"
For most couples, their wedding day will be memorable enough with photographs of family, performing customary traditions and ultimately their commitment to one another. However, there are modern romantics out there that believe it's necessary to mark their special occasion in a more nontraditional manner.
David, an online marketing and video expert, is one of those leading the charge for a less customary way to make their wedding day a hit. This husband-to-be not only looked for an original way to make his big day more memorable, but he recorded and released it to the world so it goes viral.
On May 4, 2013 David and his bride tied the knot. Little did the new Mrs. Jenyns know that she was about to be shocked by something her husband had been planning for months. "My beautiful wife had originally asked to have 'Grow Old With You' as our wedding cake cutting song" remarks David, "Little did she know I spend the next 8 weeks going to singing lessons to learn Adam Sandler's song from the Wedding Singer movie."
He continues, "in fact, I even tweaked a few extra lines from "Green Lakes" cover to create my own extended version of the song."
Being the Director of renowned video production company, David had the entire surprise filmed and edited so he could release it on YouTube. "I just launched the video and expect it to really take off, especially amongst those romantics out there like me." The video was released on YouTube last Friday, 12 July.
The popular Melbourne SEO & Video Production Director David Jenyns not only married his true love on his wedding day, he shocked her into tears with his own rendition of Adam Sandler's 'Grow Old With You' song from the hit movie "The Wedding Singer". The entire surprise event was filmed and then released this past Friday on his YouTube Channel. "Who knows, maybe it'll inspire a few grooms out there, too," smiles David. Click here to watch the video, or to learn more about David's inspirational ways to market business online, visit http://www.melbournevideoproduction.com.au/video-production-in-melbourne/web-video-melbourne/.
About Melbourne Video Production
Melbourne Video Production is a division of MelbourneSEOServices.com, a full service search engine optimization (SEO) consultancy, based in Australia, but with a worldwide client base.
Melbourne Video Production has the unique ability to combine their web video expertise with strategic SEO practices from Melbourne SEO.
Director, David Jenyns, has, over several years, built a team of experts who are niche experts to support the business, and who share his ethos for ethical, professional internet marketing and web video.