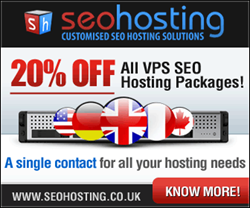 We offer over 380+ Unique C-Classes and 18 countries to choose from!
Hollywood, fl (PRWEB) August 04, 2014
SEOhosting.co.uk is taking SEO to a new level by offering country specific C-Class IP hosting via Dedicated Servers & VPS solutions. "The basic idea behind SEO hosting is that having your websites on unique IPs may give you an advantage over your competitors Search Engine rankings. We offer the option to host all of your websites on one physical server at a single geographical location, but on different C-Class IP's. This creates the impression that your domains are operated by unique entities and this helps to pass along the link juice when interlinking sites," said Jennifer Linnuste, Director of Sales and Marketing for SEOhosting.co.uk.
SEOhosting.co.uk provides flexible SEO Hosting services and has a large selection of countries to choose to have IPs originate from. This allows clients to purchase various IPs from different countries, with differing C classes and use them to create websites that appear to be completely unrelated. For search engine optimization purposes, this can be very useful and is a service that is very much in demand these days.
This type of diversity in country specific IPs is hard to come by and with prices starting as low as $1.35 per IP per month and clients have the option to choose from a variety of either VPS or Dedicated Servers. With this large selection clients will be sure to find exactly what their requirements call for. SEOhosting.co.uk offers preconfigured SEO Hosting packages as well as custom built ones and are always willing to assist in choosing which server is right for them.
For more information on SEO Hosting, visit http://www.seohosting.co.uk or email them directly at info(at)seohosting.co(dot)uk for more information.
SEOhosting.co.uk
Contact: Jennifer Linnuste
Email: jennifer(at)seohosting(dot)co.uk