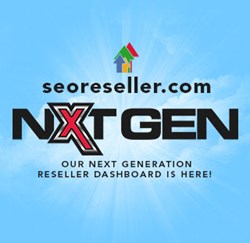 We're the first dashboard in the industry to feature an on-page optimization preview feature.
San Francisco, CA (PRWEB) February 06, 2014
Online marketing services provider SEOReseller.com recently announced the launch of their new reseller dashboard. The SEO Reseller company says this major platform update features more project management features, more in-depth reporting, and the world's first on-page optimization reporting system built into an online marketing dashboard.
New Features
SEOReseller.com's next generation reseller dashboard features the following new functionalities:
On-Page Optimization System
"We're the first dashboard in the industry to feature an on-page optimization preview feature," says Clayton Wood, SEOReseller.com's Marketing Director. The new feature lets partners see on-page optimization on targeted pages of their campaign website. According to Wood, this "puts [the resellers] on the same page with your clients and shows exactly what we've optimized as it appears on Google SERPs."
Task Management
Another major new feature in the new dashboard is the task management system, which lets SEOReseller.com's partners track the work that goes into their campaigns. The task management system tracks roadmap updates, content development and publication, links QA, and other tasks related to a reseller's specific online marketing campaign. These tasks are grouped and labeled according to type, making it easy for users to track their status.
Reports
SEOReseller.com's new dashboard also features a report library, where all the reports - on-page, monthly reports, PPC, and other reports requested for a reseller's campaign - will be stored. Dashboard users no longer have to go through their emails to find any reports, because they will be kept in SEOReseller.com's file repository. Resellers may search for their reports by type and by date. The report library includes all proposals and white label seo reports that clients request.
Intake Form Reminder
The new dashboard features an intake form reminder that lets partner resellers know how many intake forms need to be filled out. SEOReseller.com's intake form management also features a white label intake form generator, which lets users create and link to white label intake forms for end clients.
PPC Reporting
The new dashboard features PPC reporting, allowing resellers to track their pay per click campaigns without switching tools. This feature shows time comparisons for PPC projects and tracks other performance indicators.
Custom Goals Tracking
The new system allows users to track custom goals set in Google Analytics.
Credentials Tracker
Partner resellers will have a database of access information for all the accounts created for their campaigns by SEOReseller.com.
File Repository
SEOReseller.com's partners will be able to access all files for their campaigns in the dashboard's file repository. The files are stored in a secure server and are labeled according to type, and SEOReseller.com has added search and sorting features to make finding files easier for users.
Resellers can also expect to see the following changes in the dashboard's existing features:
New, Interactive Design
SEOReseller.com's new dashboard features a sleek, intuitive, and responsive design that allows users to manage campaigns from different devices and platforms. The new design gives users an overview of projects upon logging in.
Project Overview
The new dashboard features a summary of information about a reseller's campaigns. This includes project information, the SEO reseller package a campaign is on, analytics, PPC overview, links summary, tasks, keywords and rankings.
Improved Google Analytics Integration
The new reseller dashboard combines in-house data with Google Analytics information to deliver the most accurate campaign information available. The system uses a simple process to connect a reseller's Google Analytics account to the dashboard.
Improved Rank Tracking
The updated rank tracking system features a new layout for easy ranking progress viewing, markers to help distinguish between targeted and tracked keywords, and search functionality. Clicking on a keyword leads to the keyword ranking summary page, which also features a sleek new design.
Link Tracking System
The link tracking system, which was one of the newer features of the reseller dashboard, has also been updated. Resellers can easily manipulate dates, sort and group links by type. This system tracks and reports all of the content marketing and inbound links acquired by SEOReseller.com for it's projects.
SEOReseller.com's next generation dashboard is now available to all legacy clients and new sign-ups. Visit the company's official blog for a more in-depth walk through of the new system, and go to http://www.seoreseller.com to view their full range of private label SEO solutions.