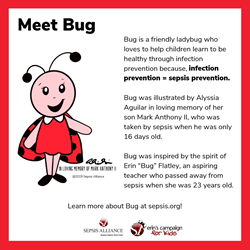 "Every day about 18 children in the U.S. die from sepsis. That's why it's vital for parents and caregivers to know how to recognize the signs and symptoms of sepsis in children early, and to seek medical attention immediately," said Thomas Heymann, President and Executive Director, Sepsis Alliance
SAN DIEGO (PRWEB) April 22, 2019
On April 21st, Sepsis Alliance launched Pediatric Sepsis Week to raise awareness of the signs and symptoms of sepsis in children, and to honor the 75,000 children in the United States who develop sepsis each year. Sepsis is the body's life-threatening reaction to an infection and it takes the lives of more children every year than pediatric cancers. This annual observance will now take place the third week of April.
Sepsis Alliance invites parents and loved ones of pediatric sepsis survivors, and sepsis survivors themselves, to share their sepsis experience on social media using the hashtag #ChildhoodSepsisStory to help raise awareness of sepsis in children, and to remind other survivors and families that they are not alone.
"During Pediatric Sepsis Week, it is extremely important for us to work closely with pediatric sepsis survivors, their families, as well as with the families of the little ones who did not survive, so we can bring to life and honor their experiences," said Thomas Heymann, President and Executive Director, Sepsis Alliance. "Every day about 18 children in the U.S. die from sepsis. That's why it's vital for parents and caregivers to know how to recognize the signs and symptoms of sepsis in children early, and to seek medical attention immediately. It can save their child's life and reduce the chances of long-term complications."
Early recognition and treatment of sepsis can increase a child's chances of survival and improves their recovery. The signs and symptoms of sepsis in children may present differently than in adults and may include:

Skin abnormally cold to the touch
Mottled, bluish, or pale skin
Rash that does not fade when pressed
Very fast or rapid breathing
Seizures
Lethargy or difficult to wake
Additionally, for children under 5 years old, signs and symptoms may include:

Not drinking or feeding
Repeated vomiting
12 hours without urinating
In time for Pediatric Sepsis Week, Sepsis Alliance debuted Bug, a ladybug character to help children learn about infection prevention. Bug is illustrated by Alyssia Aguilar in loving memory of her son Mark Anthony II, who was taken by sepsis when he was only 16 days old. Bug was inspired by the spirit of Erin "Bug" Flatley, an aspiring teacher who passed away from sepsis when she was 23 years old. After her death, Erin's father Carl Flatley, DDS, MSD, founded Sepsis Alliance.
"I truly hope that my art will help teach and also spread smiles to young faces and families that are learning about sepsis," said Alyssia. "I wanted to find a way to remember my son's name and honor his life by giving back. Partnering with Sepsis Alliance to create Bug was the perfect opportunity to do that."
Bug will be featured on Sepsis Alliance's social media throughout the week, along with infection prevention tips for parents, caregivers, and children. To access printable Bug coloring sheets, a downloadable pediatric sepsis week toolkit, and learn how to raise sepsis awareness, visit http://www.sepsis.org/pediatric-sepsis-week.
About Sepsis Alliance
Sepsis Alliance is the leading sepsis organization in the U.S., working in all 50 states to save lives and reduce suffering by raising awareness of sepsis as a medical emergency. In 2011, Sepsis Alliance designated September as Sepsis Awareness Month to bring healthcare professionals and community members together in the fight against sepsis. In 2018, Sepsis Alliance created the award-winning national campaign, It's About T.I.M.E.™, to educate the public about the signs and symptoms of sepsis and to highlight the urgent need to seek treatment when symptoms are recognized. Sepsis Alliance gives a voice to the millions of people who have been touched by sepsis – to the survivors, and the friends and family members of those who have survived or who have died. Since 2007, sepsis awareness in the U.S. has risen from 19% to 65%. Sepsis Alliance is a GuideStar Platinum Rated charity. For more information, please visit http://www.sepsis.org. Connect with us on Facebook and Twitter at @SepsisAlliance.