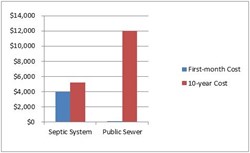 Consumers are now more adequately prepared for winter and colder weather.
Seattle, WA (PRWEB) September 25, 2013
Consumers are now more adequately prepared for winter and colder weather, all thanks to Ace Acme's latest septic article. The blog post is written for home and business owners who wish to protect their septic tanks from the harsh conditions. It thoroughly explains preventive measures such as insulation tips, water usage guidelines, and poor septic choices to avoid.
The article begins by covering insulation and how homeowners can help in this area. "Believe it or not," Ace Acme states, "the elements themselves will help insulate your septic system. A layer of snow over the tank and pipes will provide good insulation. If snowfall is light, a thick layer of loose mulch or straw will do the trick. Avoid driving or heavy foot traffic over top of the tank. This will compact the earth and any snow, causing it to lose much of its insulating properties."
Another tip the article explains is the value of water usage. As can be expected, regular use of hot or warm water will help prevent septic systems from freezing. Laundry, dish cleaning, and showers, are all good measures to be taken against freezing temperatures. With imposing winter months ahead, homeowners are looking for ways to protect their septic and plumbing. Through this article and others, Ace Acme is providing a quality resource to learn those ways.
About Ace Acme:
Serving Northwest home and business owners since 1952, Ace Acme provides high quality septic tank pumping services. Their team of professionals know what it takes to protect the environment, excel within the industry, and work hard for every customer. Visit http://www.aceacme.com for helpful information and exceptional service.