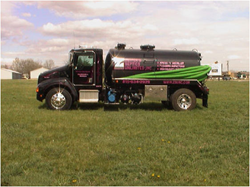 Family Run Business Serving Greater Illinois Since 1978
Morris, IL (PRWEB) June 24, 2014
Since the tanks deal with human waste, it is important to have them properly and regularly maintained. But sometimes, it takes more than the naked eye to correctly inspect a problem inside a septic tank. Sometimes, it takes technology to find out what's wrong, and how severe the problem is. Sometimes, all it takes are Pearpoint and Insight Vision Color Cameras.
Pearpoint and Insight Vision are two camera companies that offer cameras and recording equipment specialized for sewer line and septic tank inspections. Portable and lightweight, the inspection cameras are fit to be used in hazardous areas and could look into every corner of the septic system. The cameras have no problem working in unstable environments, confined spaces and potentially unsafe conditions. They can also be used in conjunction with septic tank cleaning (http://www.zeitersseptics.com) services, as they can accurately estimate the capacity and level of build-up inside the tank. The color cameras are of most use to septic system inspectors because of the accuracy and detail their imaging provides. Workers find much more ease in correctly diagnosing septic system problems with the use of these inspection devices.
Here's a sample septic system inspection scenario. A homeowner notices that his toilet is not flushing properly, the bathtub does not drain, and there are wet spots in the lawn. Suspecting a problem in the septic system, he phones the local septic system pumping company. The workers inspect the drains, the sinks, and the toilet and come up with a diagnosis that there is blockage in the piping system. They have the obstruction cleared at once. After just a mere couple of days, however, the homeowner complains of the same problems, and more. It turns out that there is more than just blockage in the septic system—the drain field lines are broken, some pipes are cracked, and the distribution box level is not right. All these, the workers failed to correctly diagnose. Now, they end up doing much more work than they should have if only the problem have been detected earlier on.
The above situation would have been prevented with the use of inspection cameras, such as Pearpoint's and Insight Vision's. The cameras can examine what narrow and hidden areas that a human worker can't. The specialized camera can check inlet and outlet tees, distribution box levels, the system drainage and absorption areas, even waste lines and sewer lines. They can scan through the whole septic system and assist the workers in producing a comprehensive inspection report important for future septic system operations. Septic tank cleaning (http://www.zeitersseptics.com) will be done more thoroughly and efficiently since the workers do not only depend upon their estimation but upon real images of the tank. Also, every time the septic system workers pump out the tank, they are able to thoroughly check the piping and distribution box levels for problems. Through early detection provided by these cameras, the workers can avoid any future complications in the septic system.
Pearpoint's and Insight Vision's color cameras are one of today's most invaluable innovations. Through the recording equipment, septic pumping companies can provide more effective and satisfying services to their customers.
About Zeiters Septics
We have continued to evolve with the times and continue to offer entertaining ways for customers to save money. We are open M-F from 7-4 with after hours service available. For more information please contact our office. (how long in business, how long on web, etc.)
Please check out our website for more information or give us a call.
Office hours: M-F 7-4 pm Saturday by appointment.
Zeiter's Septics Unlimited, Inc.
815-942-2829
info(at)zeitersseptics(dot)com
http://www.zeitersseptics.com
After hours: 815-600-8988