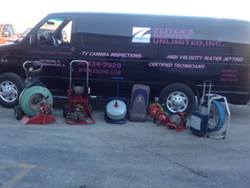 Family Run Business Serving Greater Illinois Since 1978
Morris, Illinois (PRWEB) May 26, 2014
Our company (http://www.zeitersseptics.com) was the first company to embrace and install the new BioMicrobics BioBarrier Membrane unit in Illinois. This new technology for onsite wastewater treatment is NSF 40 and NSF 350 approved. NSf 350 means it is safe for human contact. This clean reusable water can be used inside the house for flushing toilets and prewash for the washing machines. It can be used for lawn irrigation, water ponds, etc., etc.
With the new technology that is available, and with the housing market starting to come back, the homeowners benefit from the BioBarrier unit. Where once needing 3000 square foot of yard space for a septic system, the BioBarrier can reduce it to under 1000 and even under 500 square feet depending on soils. Now the homeowner can have their pool and outbuildings and still be able to live like they were on city sewer and water. This new technology could even reduce septic tank cleaning (http://www.zeitersseptics.com). Zeiter's Septics is proud to embrace all new technologies. They do their homework and research and want the best for the company and their customers. There was a major environmental code change in Illinois this year. It is much more restrictive on subsurface septic requirements. If someone thinks they will be able to keep doing the same old thing and make it in this market, think again. This is what sets Zeiters apart from the rest of the heard. They think outside the box.
About Zeiters Septics
We have continued to evolve with the times and continue to offer entertaining ways for customers to save money. We are open M-F from 7-4 with after hours service available. For more information please contact our office. (how long in business, how long on web, etc.)
Please check out our website for more information or give us a call.
Office hours: M-F 7-4 pm Saturday by appointment.
Zeiter's Septics Unlimited, Inc.
815-942-2829
info(at)zeitersseptics(dot)com
http://www.zeitersseptics.com
After hours: 815-600-8988