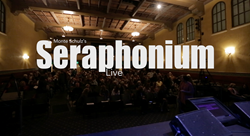 When I heard he (Schulz) was going to put "Seraphonium" on it's feet "live" – I knew I had to get it on film!" -Director Byl Carruthers
Santa Barbara, CA (PRWEB) January 27, 2017
Seraphonium Live! - A Documentary Concert Film, directed by Byl Carruthers, chronicles the one-time-only live performance of composer Monte Schulz's genre-bending debut album, and will have its World Premiere at the 32nd Santa Barbara International Film Festival on February 8 and 11, 2017.
"Monte Schulz has this restless, creative soul that runs down every boulevard and back road it finds. He spits out everything from folk songs to philharmonics, and doesn't settle for anything less than the song he hears in his head. When I heard he was going to put "Seraphonium" on it's feet "live" –I knew I had to get it on film!"
-Director Byl Carruthers
This beautifully rendered Concert Film, represents the culmination of a 40 year dream. Monte Schulz (eldest son of Peanuts creator Charles M. Schulz), spent his entire adult life writing novels and teaching. What no one but his closest family knew was that he'd been quietly composing music for 40 years. At the age of 62, he started recording an album of his work with multiple producers, and over 70 different musicians. The result is a sprawling Opus that touches on Rock, Folk, Bluegrass, Musical Theater, and more. This joyous, emotive document captures the entire amazing "once-in-a-lifetime" performance.
Composer Schulz says, "My songs chase melodies across genres – from rock to pop, classical to folk to world music, and I'm honored that these world class musicians came together for one night to perform these songs and that we were filmed by such an accomplished camera crew and director."
The concert raised funds for "AHA!," a non-profit organization committed to transforming the world by empowering teens to create peaceful and connected communities. One lucky AHA! teen, Ben Anderson Flores, was granted a singer's dream, by performing a song onstage with the music greats.
Santa Barbara International Film Festival's "Seraphonium Live!" show times are Wednesday, February 8th, 2:00 p.m., and closing night, Saturday, Feb 11th at 9:00 p.m. Both at Santa Barbara's Metro 4 Theater, at 618 State Street.
For more information on the film, contact Byl Carruthers at forbyl(at)earthlink(dot)net, Seraphonium.com, "friend" Seraphonium on Facebook, and follow Monte's music lyrics and literary quotes on Twitter @monteschulz.
Based out of Santa Barbara, CA since 2008, Innovative Creative is a PR company producing successful content and campaigns for music, film, publishing and non-profits. Visit innovativecreativeco(dot)com.