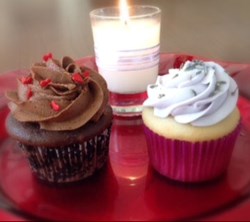 I started my business with flavors inspired by my favorite champagne, which have become customer favorites." - Kristy Woelfel
Pasadena, CA (PRWEB) October 22, 2013
Kristy Woelfel, the owner and founder of Serendipity Cupcakes, a local made-to-order based cupcake company in Pasadena, is adding a unique twist to the favorites in her popular flavors line up. The Serendipity Love Collection flavors are made from ingredients that are known for love.
"I started my business with flavors inspired by my favorite champagne which have become customer favorites," says Kristy Woelfel. "But, for a long time, I have wanted to bring Serendipity to life and give my customers a truly fun and magical cupcake experience. After researching the ingredients that are known to entice love, I created the recipes for the flavors that will introduce the Serendipity Love Collection."
The three new flavors are:
Spicy Mayan Chocolate: with real Mayan chocolate, Chile peppers, cinnamon and vanilla.
Love and Lavender: with lavender, vanilla and real lavender flower.
ChocoLuv and Lavender: a combo of Spicy Mayan chocolate cake with creamy whipped lavender topping.
The Love Collection cupcakes come with the message to "make a wish, take a bite…and the rest is serendipity." Kristy Woelfel is also inviting customers to share their serendipity love stories on her Facebook page.
She is launching the new flavors at Williams and Sonoma Artisan Fair in Pasadena on Saturday October 26, 2013.
For more information about the Serendipity Cupcakes Love Collection, follow the link http://www.serendipitycupcakesca.com