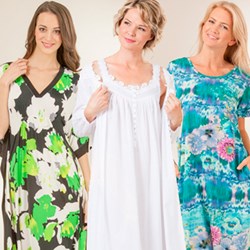 "By continuously seeking out new brands we are able to offer a mix of brands and styles unlikely to be found anywhere else" -Tom Kelly, Co-Founder
Worcester, Ma (PRWEB) August 22, 2013
For nearly ten years Serene Comfort has been dedicated to offering comfortable clothes that are all about serene comfort- beautiful high-quality sleepwear, luscious nightgowns, casual and fashionable dresses, relaxing caftans and much more. Now, Serene Comfort is expanding to bring its customers more of the brands, styles, collections, and sizes they love.
The expansion will increase the company's current collection of brands as well as enable it to expand into completely new areas. Customers will see increased offerings in the lines of specialty brand dresses, such as Eagle Ray and Bali Batiks. The caftan assortment will also increase, with many new beautiful prints and colors from Natori, Sante', Winlar and others. More pieces from brands such as Icantoo and Raya Sun will continue to grow the new resort wear line. Customers can also look forward to a significant increase in the Plus Size collection, as the company continuously works toward providing extended sizes in everything they carry.
"At Serene Comfort we take pride in doing more than going to a few trade shows to find products for our customers. We are also willing to go off the beaten path to find styles and brands that most likely will not be found elsewhere by the internet shopper," stated Tom Kelly, Co-Founder of Serene Comfort. The company is unique in that it offers both department store brands and small boutique brands. The recent expansion will allow the company to grow its collection of lines to fill the store with exciting new brands, unique styles and prints.
About Serene Comfort
Founded in 2004 by Elizabeth (CEO) and Tom Kelly (COO, CFO), Serene Comfort started off as a sleepwear eCommerce retailer that grew quickly. The company offered popular brands such as Eileen West nightgowns, Miss Elaine women's sleepwear and La Cera at very competitive prices with fast shipping and attentive customer service. It continued to expand its product lines with highly sought after brands such as Carole Hochman, Shadowline, and Oscar de la Renta before adding an assortment of dresses, caftans, and resort wear. For additional information and to view the clothing lines please visit Serene Comfort.