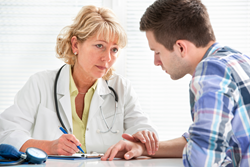 About 60% of the 2.3 million U.S. inmates are incarcerated because of drug offenses.
Marne, Michigan (PRWEB) July 25, 2016
After being approved by both the United States Senate and House of Representatives, the Presidents recently signed the Comprehensive Addiction Recovery Act of 2016 (CARA) into law. This new law provides immeasurable benefits for individuals who are struggling with addiction. The bill was initially introduced as a method of combatting the recent and devastating uptick in Opiate-related deaths. As drugs, such as prescription painkillers, Heroin, and Fentanyl, continue to cause fatal overdoses, the professionals at Serenity Recovery Center of Marne, Michigan hope that the new law will curb this destructive trend and change the way addiction is viewed by society.
Under this new law, minor drug offenders (such as individuals who are arrested for possession) can be given the option of treatment, as opposed to incarceration. With that in mind, addiction can begin to be seen as the public health issue that it is, as opposed to simply being viewed as a crime. As the Opiate epidemic continues to devastate communities, the justice system and prisons have become overwhelmed with minor drug offenders. Not only does this cost the government tens of thousands of dollars per offender, it also does nothing to help addicts achieve long- term sobriety. While incarcerated, addicts have minimal to no access to addiction treatment programs. What programs do exist are typically poorly run and shockingly underfunded. Serenity Recovery Center supports the aspects of this new law that give addicts the opportunity to gain sobriety in a professional, clinical setting.
Not only will this new law provide minor drug offenders with enhanced treatment options, it will also increase resources and educational opportunities for addicts and their families. Additionally, it will enhance prescription drug monitoring programs and increase the availability of Naloxone throughout the United States. According to Serenity Recovery Center, this law will help change the perspective of the many Americans who view addicts as criminals, as opposed to individuals with a treatable illness. Treating addiction as a public health issue makes sense for all parties involved. "On its most basic level, treating substance abuse as a public health issue and not a crime will help to greatly reduce government expenditures in this area… When inmates do not receive the treatment they need while in prison (or in lieu of prison), they are more likely to reoffend, which results in the need for additional funding."
When this progressive new law is supported by industry experts, such as Serenity Recovery Center, individuals can begin to see the benefits of its provisions. Not only will it save money, it will also help save lives of addicts who would otherwise languish in the prison system. In addition, the families and communities of these individuals will experience fewer collateral consequences of incarceration as a result.
Each addict costs the government approximately $30,000 per year. About 60% of the 2.3 million U.S. inmates are incarcerated because of drug offenses. On a practical level, if individuals who commit minor, non-violent drug crimes are offered treatment in lieu of a prison sentence, prisons are bound to require significantly less funding. Additionally, if treatment options are provided, recidivism will be reduced, effectively stemming the cost of incarceration. On a more personal level, increased resources for addicts and their families will help improve communities throughout the country that have been negatively impacted by substance abuse.
Though the perspective on drug and alcohol addiction is slow to change, the new CARA law is certainly a giant leap in the right direction for individuals who suffer from addiction. All parties involved will benefit when addiction is treated as a public health issue instead of a crime: the government will save funding, addicts have increased opportunities to achieve sobriety, and loved ones and communities will benefit from the presence of a healthy and productive member. The professionals at Serenity Recovery Center know the positive impact that this law will have throughout the country. With a more comprehensive understanding of addiction, fewer individuals will fall into its devastating trap and those who do will be afforded greater opportunities for recovery. For more information, please visit the Serenity Recovery website, or call them at 1-855- 218-3775.