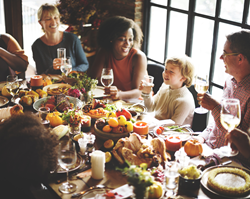 With a little planning, recovering addicts can prepare for a safer holiday.
Marne, Michigan (PRWEB) November 25, 2016
For many people the start of the holiday season brings time for family, days off of work, eating and shopping,—all of the comforts of a traditional American Thanksgiving holiday. That warm and glowing image might not ring true for everyone, though, for various reasons. Addicts in recovery have a particular challenge during the holidays: parties can bring temptation in the form of alcohol and family gatherings often include triggers (such as emotional reasons for using in the first place). In support of a safe and successful Thanksgiving, Serenity Recovery Center created a helpful guide for navigating holiday challenges.
The holidays and alcohol don't always mix well. According to data reported by Mothers Against Drunk Driving (MADD), Thanksgiving is one of the holidays where impaired-driving related fatalities spike (in addition to Christmas and New Year's Eve/Day). The day before Thanksgiving, sometimes called "Blackout Wednesday" from the excessive alcohol consumed on that day, Thanksgiving Day itself, and the day after are some of the most dangerous times on the road. For recovering alcoholics, it can seem as though the entire holiday revolves around the consumption of alcohol. Even displays of moderate consumption can create an uncomfortable situation.
With a little planning, recovering addicts can prepare for a safer holiday. Attending only events where no alcohol will be served may help. Bringing a "sobriety partner," a friend who agrees to also not drink, may also ease temptation. Volunteering to be the designated driver might be enough for some, who feel confident in their ability to abstain.
Thanksgiving is a time of gratitude, a key component of successful recovery, so in that spirit some addicts also choose to volunteer at a rehab or community dinner for the holiday.
Friends and family members of an addict in recovery might also be asking themselves what they can do to help. For starters, showing support and encouragement, while avoiding contention or "family drama" can go a long way toward assisting. Hosting an alcohol-free party or meal also makes for a more comfortable atmosphere for a recovering addict. When it doubt, ask: find out what your friend or family member might like to enjoy the holidays in sobriety.
Serenity Recovery Center is dedicated to effective treatment for all forms of addiction. To learn more, or to get help for yourself or a loved one, call 1-855-218-3775 or visit the Serenity Recovery website: http://www.serenityrehab.org.