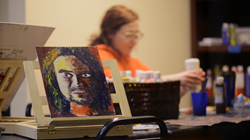 I wanted to develop a program that would take into account the differences that we all have as unique individuals.
Marne, Michigan (PRWEB) January 19, 2016
Serenity Recovery, a holistic residential treatment center for substance abuse located in Central Michigan, has released a video featuring patients and staff discussing their participation in the Art Therapy program, one of the many different courses that the rehabilitation facility offers its patients. The video, which includes clips from patient and staff interviews as well as footage from inside the Art Room, focuses on the different ways that the patients at Serenity Recovery can benefit from this particular program options.
"I wanted to develop a program that would take into account the differences that we all have as unique individuals," says Serenity Recovery founder Per Wickstrom. "Each patient finds something different to be most beneficial to them during their stay at our treatment center. Having a variety of avenues for them to explore allows them to discover what works best for them in overcoming their addiction."
In the new video, which is available for viewing on the Serenity Recovery YouTube channel, Director of Program Support Services Jordan Panko, who also facilitates the Art Therapy course, speaks about his view of the progress that the patients find in his Art Room. I believe that Art Therapy really helps individuals express those emotions that they have repressed for so long, in a way that they did not know how to express," he says. "Sometimes art goes to speak for things that go typically unspoken."
Sierra and Dillon, two of the patients at Serenity Recovery, talk about their personal experience with Jordan's Art Therapy course, and the benefit that they have found in it. Sierra expresses her appreciation for the opportunity to let loose and have fun, as well as for Jordan's energy and enthusiasm, results of his dedication to his work. Dillon talks about the tremendous therapeutic value he discovered in being able to express himself through art, and how he is breaking down barriers and finding that he doesn't need drugs or alcohol to find joy in life. Their differing testimonials mirror Wickstrom's statement about each patient finding different benefits in the various program options and treatment methods at Serenity Point.
The substance abuse treatment program at Serenity Recovery is designed to provide their patients with a complete lifestyle transformation, focusing equally on healing the individual as a whole, Body, Mind, and Spirit. With guidance from their counselors and case managers, patients are encouraged to explore the options and programs that will be most beneficial for their needs. Graduation from Serenity Recovery is based on results, not any timeframe, which allows each patient to take things at their own pace, helping them to get the full benefit from their individualized program.
See the full video here: https://www.youtube.com/watch?v=xEbohQmdFsk