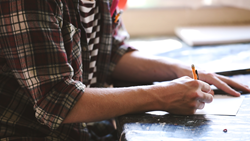 I got started with the Art program because treatment has many layers to it
Marne, Michigan (PRWEB) July 07, 2016
Those who may be seeking help in overcoming addiction from a professional substance abuse treatment center may find some help in that decision in a recently released video from Serenity Recovery, a holistic rehabilitation center located in Central Michigan. The video, which can be seen on the Serenity Recovery YouTube channel, is another installation in a series of videos that gives viewers an inside look at the many different treatment options available at the treatment facility, this one focusing on their supplemental Art Program.
"Most of the patients that we see at our treatment center have spent a long time numbing their emotions with drugs or alcohol," commented Serenity Recovery founder Per Wickstrom. "As they dig deep to uncover the underlying causes of their addictive behaviors, it is vital to the rehabilitation process that they are able to find positive ways to express those emotions that are finding their way back to the surface. Through our Art program, many patients are able to discover a new method of coping with those emotions, while others can find a reconnection to an old passion that may have taken a back seat to substance abuse along the way."
John Hard is the facilitator of the Art program at Serenity Recovery, and also the Senior Director of Administration. He developed the program syllabus by adapting his own passion for artistic expression with a focus on the recovery process. "I got started with the Art program because treatment has many layers to it," John explains. "There's a lot of material that we have from our clinical team that gives direction on the healing process of recovery, and we looked at some of those things and adapted them through an art project on how it could relate to recovery."
Art in Recovery
John's love for art and his understanding of the benefit it can have in recovery from addiction are highlighted by his dedication to the success of the Art program at Serenity. Truman R., a patient at the rehabilitation facility and a participant in the Art group, spoke about his experience in an interview, which is also featured in this video. "I've been to a few rehabs," Truman admits. "One of the art programs was literally just a room, some markers and some printer paper. But John cares, he's in there all the time, and you can go in there and he'll give you whatever you need."
The Serenity Recovery treatment plan is designed to be a thorough path to overcoming addiction, focusing on healing the Body, Mind, and Spirit. Rather than concentrating only on getting clean and sober, patients at Serenity are encouraged to make a complete lifestyle transformation that will enable them to enjoy long-term sobriety after they complete their program.
Blog:
http://www.serenityrehab.org/blog/uncategorized/personal-expression- using-visual-art- recovery/