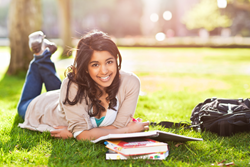 When a recovering teen and his or her family have made a well-informed choice, and are prepared with the techniques necessary to confront potentially stressful situations, they will be on the road to success.
Marne, Michigan (PRWEB) August 09, 2016
Approximately 10 million teens in the United States admit to using illicit substances, including drugs and alcohol, at some point in their lives. About one fifth of individuals in this group have a diagnosable substance abuse issue. For parents, this may seem like the worse case scenario. Fortunately, many teens find sobriety with a professional addiction treatment center. The experts at Serenity Recovery Center of Marne, Michigan have helped countless teens overcome their struggles with drug and alcohol abuse. To ensure these individuals remain happy, healthy, and sober after graduation, Serenity has released a back to school sobriety guide for recovering students.
After successful completion of substance abuse treatment, addicts will celebrate their accomplishments at a graduation ceremony. Parents of teens who are in recovery, however, hope that their children will also be able to successfully graduate from high school. As such, recovering students and their parents must decide how to proceed after treatment. For some, returning to their former school is the best choice, for others, however, this may pose too many temptations. Thus, some choose to change schools, attend an alternative school for recovering addicts, or try homeschooling. Either way, students and their parents must weigh the pros and cons of each choice. According to Serenity Recovery Center, parents must also ensure that their children are prepared to remain sober, no matter what schooling option they choose. This may entail the use of relaxation techniques or the need to reach out to a counselor or mentor.
Each potential academic option comes with several benefits and downfalls that must be weighed by parents and teens, alike. For example, recovering students who return to a former school may face shame and stigma from peers or even from faculty and staff. Attending the same school, however, may be the most comfortable environment for a recovering student, who is particularly susceptible to the stress when confronted with new situations. For others, according to Serenity, "A new school may be just what a recovering teen needs to start on a fresh path to success…. Though they aren't very common, there are also some alternative schools that offer services strictly to students who are in recovery or have previously gone down other dangerous paths." When a recovering teen and his or her family have made a well-informed choice, and are prepared with the techniques necessary to confront potentially stressful situations, they will be on the road to success.
When teens struggle with addiction, every possible step must be taken with extreme care. This will ensure that they get the help they need to remain on a healthy path. With this information provided by Serenity Recovery Center, recovering teens and their parents can learn how to make an informed choice about returning to school after treatment. Furthermore, these individuals will gain valuable techniques to help them combat stress and cravings when they do restart their education.
The younger an individual begins to use or abuse illicit substances, the more likely they are to struggle with substance abuse issues in the future. In fact, one quarter of children who abuse drugs and alcohol before the age of 18 will become addicted at some point in their lives. To avoid these consequences, this vulnerable population must be protected at all costs. Even if teens have successfully completed rehabilitation, it is necessary for them and their parents to continue to make smart and informative choices after graduation. By choosing the proper schooling option and preparing recovering students with the appropriate resources, they will have the best chance for success in the future.
Students who struggle with substance abuse will face a number of challenges after graduation from rehabilitation. By choosing the right educational path, students will be better equipped to handle the potential stress of returning to school. Furthermore, by recalling the tools they learned during treatment and establishing new, healthy relationships, recovering students can continue to remain sober. The professionals at Serenity Recovery Center have helped countless teens find sobriety and continue to live happy, healthy, and drug-free lives after graduation. For more information, please visit the Serenity Recovery website, or call them at 1-855- 218- 3775.