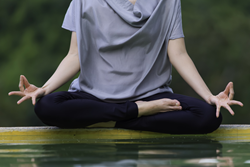 The program here centers on healing the individual as a whole, focusing equally on the mind, body, and spirit.
Marne, Michigan (PRWEB) May 01, 2016
Serenity Recovery, a substance abuse treatment center located in Central Michigan that takes a holistic approach to rehabilitation, has produced a new video that focuses on one of the more popular of their optional courses, the Yoga Class. With footage from one of their recent sessions and clips from interviews with a participating patients and the Yoga class instructor, this video is available for viewing on the Serenity Recovery YouTube channel.
"The program here centers on healing the individual as a whole, focusing equally on the mind, body, and spirit," commented Serenity Recovery founder Per Wickstrom. "The yoga class is one of our program options that has positive benefits in all three of these aspects, rather than just one or two. It promotes with physical fitness, it clears the mind and increases the ability to focus, and it helps our patients to reconnect with the world, with themselves, and with each other. It is an immensely effective part of the recovery strategy at our treatment center."
The art of yoga is described as a physical, mental, and spiritual discipline that involves flexibility, strength, and stamina, meditation and breathing techniques, and a level of self- awareness and inner peace. Originating in India over 2500 years ago, yoga made it's way into Western civilizations in the late 19th century and reached widespread popularity in the 1980s. Yoga practitioners have been steadily rising in numbers ever since.
Yoga at Serenity Rehab, Marne MI
Cathy Taylor is the Yoga Instructor at Serenity Recovery. In the video, she explains a typical session of her class, which meets twice a week and normally lasts for about an hour.
"We make the class very basic," Cathy says. "We'll start out with a little bit of 'centering', some light breathing. We do a little bit of gentle warm ups. Then, holding poses for 3 to 5 breaths, standing balancing postures, and then we do some deep stretches. We finish with the part of class when you get to relax and enjoy a few moments of silence and stillness in the body."
Serenity Recovery patient Jessica also shared some of the benefits that she found in Cathy's class, which was her first experience with yoga. "It's tranquil," she explains. "I'm kind of an anxious person, and obviously been acting out on being anxious. This has really helped me. It's been one of my coping techniques."
The Serenity Recovery substance abuse rehabilitation program offers many treatment options and supplementary classes, like yoga, for their patients to choose from. They are a results-based recovery center and do not operate on any set timeframe for completion of the individualized program, allowing their patients to explore all of their options to find what will be most effective for them. This creates a sense of self-confidence and an understanding of the responsibility that each holds in their sobriety.
See the full video here: https://www.youtube.com/watch?v=fXSPdtTmQO0