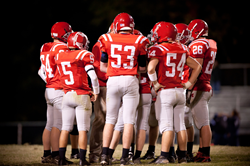 The number of deaths from opiates quadrupled in the ten years from 1999 to 2008.
Marne, Michigan (PRWEB) August 23, 2016
While drug addiction knows no specific background, a growing body of heroin addicts are young people between the ages of 12-25. Serenity Recovery Center seeks to educate young people about the susceptibility and dangers of heroin addiction, particularly student athletes and their families, who might not be aware of the short journey from injury to heroin addiction.
The nature of the game for an athlete means an increased likelihood of injury. Painful injuries, or those that require corrective surgery, often involve prescription medication for pain management during recovery. While a number of pain management techniques and medications are on the market, chances are a recovering addict will be prescribed an opiate.
Opiates are sold under a variety of names: codeine, morphine, fentanyl, oxycodone, OxyContin, Vicodin, Tylenol plus codeine and so on are all from the same class of narcotic drug: opioids. Opioids are extracted or synthesized versions of the naturally occurring opium plant. Heroin is an illegal opiate.
When an individual injects, ingests, or otherwise consumes an opiate, the drug binds with opioid receptors in the brain (and other key areas of the body, such as the digestive tract). Opiates directly affect pain and reward centers in the brain. Unfortunately, addiction is a disease also affecting the reward centers of the brain, characterized by drug-seeking behavior regardless of consequences.
Opiates themselves have a number of potential side-effects, including impaired mental function or suppressed respiratory function. Since opiates can potentially "shut down" heart and breathing functions, another side effect of opiate use, including heroin use, is death. Increased tolerance and dependence are potential side-effects as well, leading users to consume more in shorter periods of time.
The number of deaths from opiates quadrupled in the ten years from 1999 to 2008. In 2010 sales of prescription opiates was 4 times that of 1999, indicating a direct correlation between an increase and sales and that of overdoses.
Opiates are the most widely prescribed pain medications in the United States. In 2012, 259 million prescriptions were written for opioids, as reported by the American Society of Addiction Medicine. That's enough for every adult in the United States to get a bottle.
What that means for when a student athlete gets injured, is that he or she will most likely get prescribed an opiate for pain. More than half of heroin users first abused prescription pain medication. The National Institute on Drug Abuse reported that in 2011 4.2 million Americans aged 12 or older had tried heroin. Approximately 23 % of users who try heroin become dependent.
If a student athlete develops a tolerance or dependency upon prescription pain medication, the door is opened to heroin addiction. Heroin users who started with abusing prescription pain medicine report that heroin is cheaper and easier to obtain than additional prescriptions.
Heroin can be inhaled, smoked, or (most frequently) injected. Injected drugs carry additional risks, such as incorrect injections, inflammation or infection at injection site, or diseases from needle sharing. Additional side-effects of heroin use include dry mouth, lethargy, drowsiness, difficulty breathing, dizziness, itching, nausea and vomiting. Heroin use causes hypoxia, a state of decreased breathing that has psychological and neurological consequences, possibly including brain damage or coma.
For student athletes who develop a dependency upon pain medication, using heroin means game over. Serenity Recovery is committed to assisting the community in education and substance abuse prevention and recovery. Through education about the potentially addictive nature of opiates, families of athletes and young athletes themselves can be alert to susceptibility after an injury. When a prescription drug dependency has begun, intervention with the assistance of qualified addiction specialists might mean avoiding a dangerous heroin addiction. In the event that heroin addiction has already begun, it is not too late to get professional help and recover.
For more information, please visit the Serenity Recovery website, or call them at 1-855-218-3775.