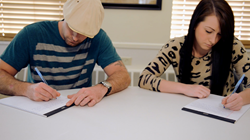 Recovery is a journey, and just like life, it has many ups and many downs.
Marne, MI (PRWEB) January 21, 2016
As part of their efforts to encourage those who may be struggling with the effects of addiction in their lives, Serenity Recovery, a holistic treatment center for substance abuse located in Central Michigan, has released a new video that highlights the support and compassion that the patients at their rehabilitation center show for each other. Focusing on two graduates and two new arrivals, the video demonstrates the power and importance of a strong support system in overcoming addiction.
"Recovery is a journey, and just like life, it has many ups and many downs," said Serenity Recovery founder Per Wickstrom. "Of all of the tools that a person will need in overcoming their addiction, a strong support network is probably the most important for them to build and maintain. Having the knowledge that there are people who understand exactly what you are going through helps to make it easier to deal with those lows and to remain clean and sober while facing those stresses and low points. What these graduates did for the new patients in our medically supervised detox clinic is invaluable as part of the foundation of that support network."
In this new video, which is available for viewing on the Serenity Recovery YouTube channel, graduates Jimmy B. and Alexandria S. offer their support and encouragement to patients currently in detox, which is the first phase of the rehabilitation strategy at the treatment center. The graduates decided that they wanted to write letters to those patients just starting out on their path to recovery from addiction. These letters were intended to show compassion and understanding for what they are going through, and to reassure them that they are not alone in their struggle.
Jimmy's letter reached the hands of Joshua S., a new arrival whose journey was very similar to his own. "I'm hoping to give those words of encouragement that will help get through this program," Jimmy shared, "to help a new patient realize that he's not alone and that this battle is winnable." Joshua, like Jimmy, had been through several treatment programs, and they even had the same drug of choice. "Knowing that somebody was in my shoes a month before me," Joshua said, "and that he's doing well and feels like he going to make it, it makes me feel like I can be a success story, too."
Kristina S. received Alexandria's message, which was meant to help calm any fears or anxiety that Kristina may have been feeling about what was coming in the weeks ahead. "When I was in detox, it was really scary," Alexandria says. "You didn't know what to expect. Detox is just the beginning. There's so much more." Her reassurance was very helpful for Kristina, showing her that it does get better and that she can make it through. "It was nice to get some words of wisdom," she said with a smile. "I felt a glimpse of hope. It is very emotional going through detox. It's really challenging. It was nice to read that you do come out of that eventually."
The substance abuse treatment program at Serenity Recovery is based on the understanding that every patient who arrives at their rehabilitation center is a unique individual with their own background and their own needs. With several different treatment options available to their patients, they have developed a dynamic recovery strategy that is adaptable to any person that is seeking help in overcoming their addiction. With the freedom to explore each option without the constraints of any timeframe, Serenity patients are able to discover the path to an addiction-free lifestyle that will be most effective for them, resulting in a sense of confidence in their recovery program and an understanding of the personal responsibility that they hold in maintaining their sobriety.
To view the full video click here: https://www.youtube.com/watch?v=oAQF4msB02s