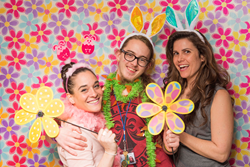 I really, really enjoyed that – brought me back to my childhood.
Marne, Michigan (PRWEB) April 03, 2016
With the warmer season on the horizon in Central Michigan, Serenity Recovery, a holistic treatment center for addiction, celebrated this past Sunday with a good old-fashioned Easter Egg Hunt. This year's holiday came somewhat early, falling on March 27 th instead of in April, and there was still a chill to the air, but that didn't stop the patients at the rehabilitation facility from enjoying their day.
Gathered around tables that held dozens of eggs and cups of dye, the patients were all smiles, jokes and laughter. Some stepped off to the side to take silly pictures, and there was a general sense of happiness and enjoyment that filled the room. After the Egg Hunt, which took place around the facility grounds, the day concluded with a bonfire in the treatment centers newly constructed fire pit.
"We enjoy having a day like this every now again, where you can just let loose for a while and have some fun, and we know the patient enjoy it as well," commented Serenity Recovery founder Per Wickstrom. "It is important to help our patients realize that they can still have plenty of fun and enjoy life without the influence of drugs or alcohol. Taking time to share life's simple pleasures is crucial to learning to appreciate our world and the people who play a role in our lives."
The treatment center has produced and uploaded a special video to the Serenity Recovery YouTube channel that highlights the day's events, and also features footage from interviews with two of the day's participants. One of those patients, Dillon K., shares some of the joy that he rediscovered from his younger years. "I haven't actually gotten to decorate eggs in a while," he says, "so, I really, really enjoyed that – brought me back to my childhood. Lot of fond memories."
And, of course, no Easter Sunday would be complete without a raucous free-for-all Egg Hunt. Alycia D. talks about how the personal connection she felt with the other patients participating, many of whom have become close friends during her stay at the recovery center, gave her a sense of family.
"It was really nice," she says with a smile. "It kind of reminded me of being home, and the Easter Egg Hunt, it was just hilarious and fun at the same time. It's good to see people having fun. It was just a really good time."
The Serenity Recovery treatment program is designed to be a thorough rehabilitation strategy that addresses the causes of the patient's addiction rather than only treating the symptoms of substance abuse. With patient group participation in various events throughout their stay, such as the Easter Egg Hunt or community outreach activities like helping out at the local food pantry, patient find the benefit of meaningful personal relationships in recovery from addiction, and walk away with a deeper sense of value and self-worth.
See the full video here: https://www.youtube.com/watch?v=L52IvpFiWOE