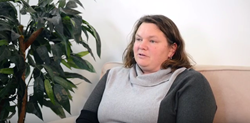 Sometimes, when someone that we hold close to our hearts is traveling down the path of drug and alcohol abuse, it can be difficult for us to see it
Marne, Michigan (PRWEB) May 11, 2016
Anybody who is concerned that a friend or family member is experiencing problems with drugs or alcohol can find some helpful tips on what to look for in a newly released video by Serenity Recovery, a holistic treatment center for substance abuse located in Central Michigan. In this video, which has been uploaded to the Serenity Recovery YouTube channel, Lead Counselor Sarah Russell and patient Jennifer H. discuss the different physical and behavioral changes that might indicate a problem with addiction.
"Sometimes, when someone that we hold close to our hearts is traveling down the path of drug and alcohol abuse, it can be difficult for us to see it," commented Serenity Recovery founder Per Wickstrom. "We can tell that there is something going on, and that things aren't quite right, but we can't quite put a finger on the exact problem. There are things that can help us identify the possibility of an addiction to drugs and alcohol, but we have to know what to look for. It is our hope that this video can help people to recognize when a loved one is falling into addiction and to do what they can to help save their loved one's life."
The identifying characteristics of addiction discussed in this video include both short-term indicators, as well as things that will become evident over a longer period of time. "You'll start to see little signs, and eventually those signs will add up," Sarah Russell explains. "Things like dilated pupils, blood-shot eyes, grogginess."
Long & Short Term Effects of Drugs
Long-term effects were also discussed, which when combined with short-term effects can more strongly indicate that an addiction may be present. These long-term effects include drastic fluctuation in weight, as well as self-isolation – when the individual becomes withdrawn from interaction with friends and family. "I got down to 80 pounds," Jennifer says. "My family confronted me about it when I just gave up on life totally. I did not care about anything."
Serenity Recovery, in their commitment to making the world a healthier and more positive place to live, describes education on the effects of addiction as the most effective tool available. In fulfilling that commitment, the treatment center has produced and made available to the public several informational videos covering a wide variety of substance abuse related topics.
Click here to see the full video:https://www.youtube.com/watch?v=IJJzZUfhWN0