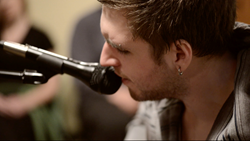 It makes me feel good to listen to music, sing along, be goofy.
Marne, Michigan (PRWEB) February 17, 2016
Serenity Recovery, a holistic residential treatment center for addiction located in Central Michigan, has released new video that puts a spotlight on their Music Exploration program, which is just one of the several supplemental courses and treatment options offered at their rehabilitation facility. This video, which can be viewed on the Serenity Recovery YouTube channel, features clips from interviews with Music Exploration facilitator Brett Ketchem and two of the patients that participated in this group, as well as footage from course sessions.
"Music Exploration, for me, is the best part of my day," says Ketchem. "One of the things that I notice the most is the ability to be able to be in front of a group of people. You can see the confidence. You can also see a physical improvement. All around, a really good, solid way to just feel good. The folks that participate, they can see that it is possible to have fun, and be clean and sober, and enjoy yourself."
In addition to those benefits that Ketchem indicated, Music Exploration also helps patients to unwind and relieve some of the stress that comes along with the often-difficult recovery process. Gillian F. is one of the patients who offered her perspective on this group. Taking a little time to focus on something other than her treatment program helps Gillian to concentrate better on her overall recovery. "For myself, it's like the perfect wind down to an afternoon," she says. "He has a cowbell, and he taps in the music and we all follow suit, and everybody has a fantastic time."
Josh B. rediscovered his passion for music that was lost in his addiction. "I used to love music before I started doing drugs," he says. "You realize how much you love music after you haven't listened to it for a while." The Music Exploration group also provides a healthy and constructive outlet for self-expression, and an opportunity to make personal connections while having fun with the other patients. "It makes me feel good to listen to music, sing along, be goofy," Josh continued. "I just had a really good time."
Music Exploration is one example of the many different programs that help the patients at Serenity Recovery in finding practical applications of the ideas and concepts discovered in the core treatment program options. Art Therapy, Relapse Prevention, and Anger Resolution, among others, are also included in the list of supplemental courses offered at Serenity, as well as various Life Skills courses, which are designed to provide the tools and skills needed to face the daily stresses of life with confidence and ability. Basing graduation from the program on results rather than any 30-, 60-, or 90-day timeframe, the patients at Serenity Recovery are encouraged to examine and explore all of the options available to them in order to discover what will be most beneficial to them in their recovery.
To see the full video click here: https://www.youtube.com/watch?v=NkbKtPHzZXs