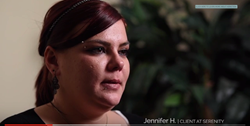 Knowledge and information are key in the battle against addiction
Marne, Michigan (PRWEB) May 11, 2016
In an effort to promote education on options in addiction rehabilitation available to the public today, Serenity Recovery, a holistic treatment center located in Western Michigan, has released a new facility video segment. This video, which can be viewed on the Serenity Recovery YouTube channel, features footage from the rehabilitation center's Medically Supervised Detox Clinic as well as clips from interviews with senior staff and patients. A corresponding blog entry has been posted on their website which gives a detailed description of the withdrawal process in their detox clinic.
"Knowledge and information are key in the battle against addiction," commented Serenity Recovery founder Per Wickstrom. "Many times, people that are suffering with addiction don't seek the professional help that will benefit them because they are afraid of having to go through the withdrawal symptoms associated with coming out of long-term substance abuse. With this video, and the others like it that we have produced, we hope to demonstrate to people that there is nothing to be afraid or ashamed of. If this video helps even just one person to overcome their fears and reach out for help, it was completely worth all of the time and effort."
Stacy Smith, the Director of Nursing for Serenity Recovery, points out that detox isn't just about the physical symptoms of withdrawal, but the emotional well-being of her patients as well. "Usually, they have a lot of physical symptoms," she says, "but also mental symptoms. Symptoms include being homesick. We have a great support staff here, and we have activities to keep them preoccupied."
Two patients, Jeff J. and Allix E., also shared their experience in the Serenity Recovery Detox Clinic. Both of these young men explain to the viewer how helpful and compassionate the staff members were, and the ease with which they were guided through the detox process.
The Serenity Recovery program has no 30-, 60-, or 90-day timetable. Instead, their results-driven program has is open-ended, allowing the patient to take their recovery at their own pace and fully absorb the new concepts and ideas that they have been introduced to. With this flexibility, the detox process does not need to be rushed, and aims to completely rid the patient of any toxic residual effects of drug or alcohol abuse.
The length of time each patient spends in their detox clinic will vary, depending upon the severity of the withdrawal symptoms. This allows their patients to get to a place of physical wellbeing so that they might be able to fully and clearly focus on their progress through the recovery program.
See the video here: https://www.youtube.com/watch?v=ELs3QDHzQlk