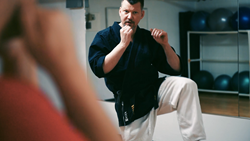 We developed our treatment program to be a thorough and effective method of recovering from addiction
Marne, Michigan (PRWEB) May 25, 2016
Serenity Recovery, a holistic treatment center for substance abuse located in Central Michigan, has produced another video highlighting one of the many supplemental program options offered at their rehabilitation facility, this time focusing on their Martial Arts class. Sensei Ed Taylor, a 5 th Degree Black Belt in the Shōrin-ryū style of Karate that originated in Okinawa, Japan, and instructor at his own karate school, talks about the twice weekly hour-long class and the benefits that both he and the patients that participate in the class find.
"My class helps with the recovery program in a lot of different ways," Sensei Taylor says. "Working with patients here, it's gratifying beyond words. When you can take someone who is struggling in their life, and you see that confidence overcome them, it's very rewarding."
Serenity Rehab Video Testimonials on Karate Class
Also featured in the video is testimony from Matthew A., one of the patients at Serenity Recovery that took the class. He talks about how helpful the Karate Class can be in stepping back from the often-stressful recovery process. "It's a little escape for me throughout the day," he explains. "Whenever I go to Karate, I don't have to think too much about what is going on. Actually, I don't think about anything at all."
There is more benefit to be found in the Karate Class than just taking a break and clearing the mind, according to Matthew. "To my overall program, it's definitely helped me," he says. "I went in there not knowing anything, and trying to learn everything. I learned to have patience. It'll come with time and practice." This valuable skill will go far in helping him to remain clean and sober when he returns to his daily life.
"We developed our treatment program to be a thorough and effective method of recovering from addiction," commented Serenity Recovery founder Per Wickstrom. "We focus on healing the Body, Mind, and Spirit as equally important in the rehabilitation process. True recovery cannot be found until these three aspects of the Whole Self are healthy and working in harmony with each other. The Karate Class is one of our many program options that focuses on all three of these aspects at the same time."
Serenity Recovery provides a dynamic treatment strategy that is adaptable to the needs of any individual struggling with addiction, by offering various program options for their patients to choose from. In addition, they base their patients' progress through the program on results rather than a set timeframe, allowing them to explore all options to find the most effective for their individual needs.
See the full video here: https://www.youtube.com/watch?v=x-4N4w- 2F7I