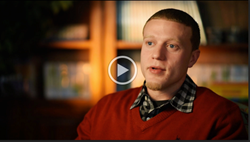 Offering an effective rehabilitation program is only part of what makes our treatment center so successful for so many people
Marne, Michigan (PRWEB) May 20, 2016
Serenity Recovery, a holistic treatment facility for addiction located in Central Michigan, has produced four new videos in their "Meet The Staff" series, which feature members of the rehabilitation team at the center. These videos, which can be viewed on the Serenity Recovery YouTube channel, focus on the importance that these staff members have in the recovery of Serenity patients, and give insight on what fuels their passion and dedication to the success of those patients.
"Offering an effective rehabilitation program is only part of what makes our treatment center so successful for so many people," commented Serenity Recovery founder Per Wickstrom. "The men and women who make up our staff are the ones who really have a positive impact on the people who come to our recovery facility. They are a constant source of encouragement and support for our patients, and their compassion and commitment is what really makes this thing work. They are truly the ones who are saving lives, and making our world a better place."
Meet the Staff Video Series at Serenity
This installation in the Serenity Recovery "Meet The Staff" video series focuses on counselors, those professionals who interact with patients in a one-on- one setting to discuss any issues or obstacles that they may be facing or having difficulty with. Khalia, Jane, and Carmella offered their personal perspectives on their work and the difference that they make in the lives of their patients.
"You see them begin to adapt, to change, to understand self," Khalia says. "As they do that, you're in awe of the person that you saw originally coming in, now." This first-person viewpoint of the transformations she helps her patients make is, she tells the viewer, what keeps her passionate about her work.
Jane talks about the important role that she and her colleagues have in their patients' lives. "Where a lot of the work is done in treatment," she points out, "is through the individual counseling sessions to get down to the reasons of 'why'."
Carmella's commitment to the work she does at Serenity Recovery comes from a place of personal experience. "I come from a family of alcoholics," she shares. "I've seen the effect that it had, not only on the abuser, but on the family as well. We were struggling just as much. Here, I have the opportunity to help those who are struggling."
A fourth member of the Serenity Recovery team, Zach, is a counselor of a different sort. As a Behavioral Interventionist, he helps those patients who are having a particularly tough time transitioning from addiction to recovery. "Behavioral Intervention is really just to keep on track to that main goal to be clean and sober and walk out of here with a certificate," he says. Overcoming his own past struggles with addiction have proven useful in his role at the treatment center. "I see myself," Zach continues. "I tried to run away from programs, I tried to manipulate myself and play mental gymnastics. You make yourself believe that you're going to be fine, when really you're not."
Serenity Recovery takes a holistic approach to rehabilitation, focusing on Body, Mind, and Spirit as equally important to the healing of the Whole Self. Their medically supervised detox clinic, staffed with highly specialized nurses and withdrawal technicians, combined with the various options offered in treatment method and their extensive Aftercare Department results in a thorough and effective path to recovery from addiction suitable for any person.
To see these personal interviews, go here:
Khalia: https://www.youtube.com/watch?v=3i8cpwXU8DY
Zach: https://www.youtube.com/watch?v=OhQHhon9WPM
Carmella: https://www.youtube.com/watch?v=Mqqd7gmOm-I