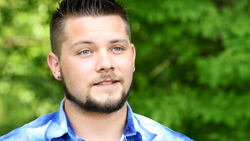 The open-ended nature of the program allows them to get the most out of their treatment plan.
Marne, Michigan (PRWEB) September 14, 2016
Held every year in September, National Recovery Month is a time of sharing strength and support in overcoming addiction. Throughout the month, success in recovery is honored, advancements in the substance abuse treatment field are acknowledged, and efforts are made to raise awareness about addiction and treatment. In that spirit, Serenity Recovery, a holistic treatment center for substance abuse located in Central Michigan, has produced a new video highlighting some of the many graduates of their rehabilitation program.
"Our program is a powerful tool in the battle against addiction," commented Serenity Recovery founder Per Wickstrom, "but it is made even more effective through the support and encouragement that our patients offer each other. As they grow in recovery, many of our patients feel the need to share their story in the hopes that their own success will help other people that have lost control of their lives to drugs or alcohol find the strength to seek help in their struggle. National Recovery Month is important to so many people because it is a celebration of their personal victory over addiction."
The new video release, which is available for viewing on the Serenity Recovery YouTube channel, features clips from interviews given by several of the recent graduates of the treatment center. The purpose behind this video is to show people that recovery from addiction is possible and that, with a little hard work and determination, a substance-free lifestyle is within reach.
Sequoia talks about the weight that she could feel being lifted from her through her recovery program. "It's really nice to look in the mirror and feel good about what I see," she says. "I am so much brighter and lighter since admitting to myself that I was really in a dark spot."
Dillon took advantage of the open-ended timeframe of the Serenity Recovery treatment strategy, which allows the patient to work at their own pace to fully absorb the concept and ideas that they discover. It's the longest I've been sober since I was probably 14 years old," he shares. "I've learned more here in the past 75 days than I have in my entire life."
Speaking from his own personal experience, Keith talks about growing tired of the way his life centered on his drug use. "You go out there and you get your fix," he explains. "Then, the next morning you wake up and you're sick again. Is that really the life you want to be living?"
Coryanne, who has been struggling with addiction for many years, shares how she discovered her own self-worth through recovery. "It gave me a second chance when I didn't think I deserved one," she admits. "I look forward to getting my life together, because I can now."
Serenity Recovery offers a unique treatment program that is designed to be flexible to the needs of the individual. Using the assistance of a case manager or counselor, patients can discover their own unique path to overcoming addiction. The open-ended nature of the program allows them to get the most out of their treatment plan. Serenity is an ideal rehabilitation center for any person seeking help with their substance abuse.