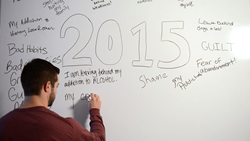 New Year's Eve is not just the end of one year and the beginning of the next.
Marne, Michigan (PRWEB) January 21, 2016
Addiction treatment professionals, those in recovery from addiction, and those who may be struggling with the effects of substance abuse on their lives will find some benefit in a recent blog entry and video published by Serenity Recovery, a holistic treatment center for addiction. In an expression of the life changes that they are making in their treatment program, patients at the rehabilitation facility participated in the creation of this video, which showcases the things in their lives that they are leaving in 2015 as they look forward to a new year and a new chapter in their lives.
"New Year's Eve is not just the end of one year and the beginning of the next," commented Serenity Recovery founder Per Wickstrom. "It is a time of rebirth and renewal, where we examine the months that have just passed and decide what we want to change, finding the things that we want to work on to make ourselves better. In recovery from addiction, every day is a fresh, clean slate that we take as it comes. We look forward to the New Year with high hopes and a positive outlook, and constantly strive to be better people than we were yesterday.
"The video, which is available for viewing on the Serenity Recovery YouTube channel, shows a whiteboard with "2015" in the middle of it. Patients took turns with a dry-erase marker, writing the things that they are leaving in the past, and the things that they will work on in the future. Then, in a symbolic expression of shedding their old ways and habits, the board is erased, leaving a new, untarnished surface.
The Serenity Recovery website has also posted a new entry on their blog that discusses the observance of the New Year, and the opportunities that it brings. Included in the blog entry are tips for those in recovery or who have loved ones in recovery, offering helpful advice on how to maintain a clean and sober lifestyle as the year makes its way through the calendar and onto the next chapter.
About Serenity Rehab, Marne MI.
Serenity Recovery is a residential treatment center for addiction that is located in Central Michigan. The program at Serenity is unique in that is provides an opportunity for their patients to discover the path to recovery that will work best for them. They offer several treatment options to choose from, and give each patient the ability to explore those choices to find what will best suit their needs. Additionally, graduation from the treatment program at Serenity Recovery is based on results rather than a time frame, giving their patients plenty of time to work through their individualized program at their own pace, maximizing the benefit of the rehabilitation strategy that they have chosen.
For this video and others click here.