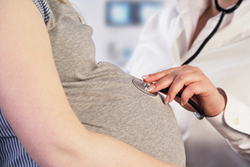 Marne, Michigan (PRWEB) September 14, 2016
September is Newborn Screening Awareness Month and Serenity Recovery is using this opportunity to encourage addressing addiction during pregnancy, thereby improving the outcome for newborns.
More than 50 years ago the first newborn screening tests for such conditions as PKU (phenylketonuria) arrived in hospitals. Now, most states and many countries require testing for at least 29 conditions within the first few days or weeks after birth. Newborn screening can detect conditions that otherwise might be unobservable at birth, but could have lasting physical or developmental consequences. For example, PKU causes severe intellectual and developmental disabilities (IDD's), but by the time it was detected before the advent of newborn screening, the effects were potentially irreversible. Simple dietary controls now exist that can prevent any such IDD's for individuals with PKU.
Newborn screening now detects about 12,500 preventable diseases each year, in many cases saving the life of the child. Unfortunately, the legislation for screening against alcohol and drug-related conditions in the mother has not kept pace. When such legislation is in place, it often has targeted addicts as criminals, rather than offering understanding and effective care that would potentially keep families intact.
Universal screening for alcohol or substance abuse during pregnancy would identify the estimated 5% of pregnant women who drink or use. Without universal screening, doctors and hospitals may potentially target certain groups of women (fitting a stereotype but not necessarily struggling with addiction), while missing many others who do not fit a profile. Though legislation and prosecution history vary widely, in some states a positive test for drugs or alcohol (even if prescribed by a doctor), can lead to a criminal charge against the pregnant woman. This kind of legislation, though aimed at protecting a child, may target women in such a way as to prevent an addicted pregnant woman from seeking and obtaining effective care. Addiction is a disease, with the rate of long-term successful management comparable to other diseases such as Type II Diabetes and hypertension. Diabetes and hypertension also pose certain risks during pregnancy, and so with monitoring and treatment a pregnant woman can be assisted to have a healthy child. Similarly, addiction treatment during pregnancy should be done in the spirit of help, with the goal of improving outcome for both the mother and the unborn child.
From alcohol consumption to marijuana to prescription pain medication, whatever the substance used by a pregnant woman, the effects on an unborn child can be devastating. Newborns can be born addicted to drugs, underdeveloped or even stillborn as a result of such substances. Unfortunately, even when addiction is correctly identified and not prosecuted, access to addiction treatment for pregnant women may also lag. Many rehabilitation facilities screen for pregnancy and will not treat pregnant women. In other cases, a woman struggling with substance abuse disorder might face inadequate, judgmental or otherwise unkind or unhelpful treatment, even within facilities that accept her for care.
By encouraging universal screening and promoting effective treatment, communities have the potential to assist women in need of care but also aid the next generation of young people. Appropriate legislation, community activism, and even just building a relationship of empathy with pregnant women struggling with addiction, all play a role in solving the problem. As we unite to eradicate addiction, within a framework of support and understanding, we promote newborn screening but also earlier prevention and effective care for families.
Serenity Recovery is committed to assisting the community in both substance abuse education prevention and successful recovery. Through Newborn Screening Awareness Month and advocating for fair and effective rehab for women during pregnancy, we create hope. As we participate as a community we communicate the value of each of our community members, who deserve effective rehabilitation. For more information, please visit the Serenity Recovery website, or call them at 1-855-218-3775.