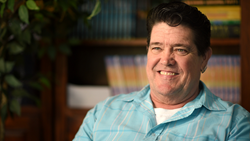 Serenity Recovery attributes much of the effectiveness of their rehabilitation strategy to the dedication that their staff has for the work that they do.
Marne, Michigan (PRWEB) September 20, 2016
Those who may be feeling the effects of substance abuse in their lives, whether through a personal problem or through a friend or family member, may want to take a look at a new video released by Serenity Recovery, a holistic center for the treatment of addiction located in Central Michigan. This video, which highlights the role of Director of Intake Services Justin Seldon in the first moments of a new patient's arrival at the rehabilitation facility, can be seen on the Serenity Recovery YouTube channel.
"I'm the first person that everybody sees when they walk in the facility," Seldon explains in his interview. Among the many responsibilities his position at Serenity holds are arranging for transportation to the recovery center when necessary and addressing any medical issues that the patient may have. But his unique station as the first point of contact the new arrival has holds the opportunity for something more – a good first impression. "I try to bring up their mood a little bit, joke with them a little bit and get them laughing," Seldon continues. "By the time they leave me, they're in a good mood."
Serenity Rehab's Goal
According to Seldon, this warm reception is important in Serenity's goal of stepping away from a clinical, hospital-like feel to one that is more accepting and welcoming, and as close to home as a recovery center can be. "Usually everybody is at their lowest point in life when they come in," he says. Fear and anxiety result from not really knowing what to expect at the treatment facility, so Seldon takes time to go over procedures and a basic overview of the things to come as the patient progresses through their treatment program.
Seldon's position as Director of Intake Services is a rewarding one in itself. Those first moments that he spends with the newly arrived patient can set the tone for their entire stay at the residential facility. "I get to see them going through the process and actually grow as a person," he says, "and when they leave, they're a totally different person than when they got here. I've seen many people come out of treatment and start a totally different life." As he watches those graduates head out into the world with a new opportunity in life, Seldon knows that he played a vital role in their recovery process.
Rehab Program Effectiveness
Serenity Recovery attributes much of the effectiveness of their rehabilitation strategy to the dedication that their staff has for the work that they do. "You can have the most powerful program in the world," comments Serenity founder Per Wickstrom, "but without a caring, compassionate, and understanding staff, it is worth nothing."
See the full video here: https://www.youtube.com/watch?v=JBtflkxhfWo