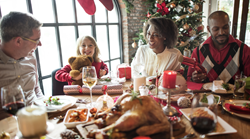 For addicts, relapse rates around the holidays may also be higher, contributing to such alarming statistics.
Marne, Michigan (PRWEB) December 13, 2016
For many people, the holiday season is their favorite time of year. One may see or hear from family members and loved ones. One may give and receive gifts. One may attend a delightful stream of holiday parties and gatherings.
For others, the holidays may be more stressful: financial stress, the illness or loss of a loved one, or a schedule that feels more like burning the candle at both ends than lighting a candle in the window. For addicts in recovery, the holiday season often feels more like the latter: all of those family, work and social gatherings may act as sobriety landmines.
One may have heard the myth that more people commit suicide at the holiday season. In fact, the Centers for Disease Control and Prevention (CDC) and others have disproven that urban legend. In fact, fewer suicides and homicides occur around the holiday season, and yet death rates spike, particularly on Christmas, the day after Christmas and New Year's Day. Various speculations exist for this phenomenon, but one thing is known: highway fatality rates, particularly involving driving under the influence, are higher. For addicts, relapse rates around the holidays may also be higher, contributing to such alarming statistics.
Against that backdrop, substance abuse recovery facilities seek to educate the public about holiday safety, particularly for those desiring to navigate the holiday season without the use of drugs or alcohol.
The first year of sobriety is often the most challenging, but year 3 or 6 or 10, or even 20 could also be a surprise landmine, particularly when attending an onslaught of holiday-related festivities, or dealing with familial or emotional challenges.
To help recovering addicts, as well as the family members or loved ones of those in recovery, Serenity Recovery Center has created a simple, 4-step guide to a successful (sober) holiday season. Even without any previous knowledge of addiction and the recovery process, a friend or family member could use this guide to function as a "sober buddy," and thus improve the outcome for those in recovery. Anyone dealing with substance use disorders can use the guide to be better prepared for work functions, family gatherings, social outings and even hosting a celebration.
The guide is available for free on Serenity Recovery's website.
To learn more, or to get help for yourself or a loved one, call 1-855-218-3775 or visit the Serenity Recovery website: http://www.serenityrehab.org