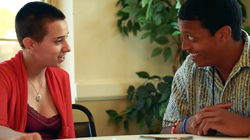 This is such an individual journey, because I have my issues with opiates and Steven has his issues with opiates
Marne, Michigan (PRWEB) August 14, 2016
Serenity Recovery, a holistic treatment center for substance abuse located in Central Michigan, has released a new video on their YouTube channel that focuses on a very unique situation with two of their graduates, Steven and Sequoia. With a friendship that has lasted for years, and eventually blossomed into a romantic relationship, these two patients share the story of their journey into addiction, and how they found their path to recovery.
"Every patient that we see has a unique story," comments Serenity Recovery founder Per Wickstrom. "We wanted to highlight one of the more unique situations we have seen. While it can be quite common to see two people in a romantic relationship struggling with substance abuse, that relationship will often end when one of them decides to seek help for their addiction. This story is one of two people who wanted to save their relationship from their addictions, and found that they had to save themselves first. We are proud of the progress that Steven and Sequoia have made, and wish them a long life of happiness and freedom from addiction."
In their interviews, the couple shares a little about how they met, how they began down the path to addiction, and what they have learned since then. As young children, Steven and Sequoia were classmates. Though they moved around quite a bit as kids, they were always in the same school, and their friendship continued until, in High School, they began dating.
Shortly thereafter, things took a left turn. "I began using opiates when I was around 15 years old," Sequoia says. "I think I knew from the beginning that they were going to lead me to a really rough spot, but I decided to deny that because it was a lot easier."
Steven began using the strong drugs with her. Their addictions developed swiftly, and their connection became strained. "We were being toxic for each other," he says. "We needed to figure out a way out of that. I called and they flew us out here, and we got help as soon as we could."
Though they originally began the journey to recovery together, they found that their recovery processes were unique to themselves. "This is such an individual journey, because I have my issues with opiates and Steven has his issues with opiates," explains Sequoia. "By gaining our knowledge individually, we can grow individually for one another."
Serenity Recovery has a unique treatment plan that offers many different program options and supplemental groups for their patients to choose from, encouraging them to explore those choices in order to find the path to overcoming addiction that will work best for their individual needs. This helps to create a sense of confidence in the recovery program, and to help each patient to understand the personal responsibility that they hold in their continued sobriety after they graduate from their rehabilitation program.
Video:
https://www.youtube.com/watch?v=Mpg3svITwmc
Blog:
http://www.serenityrehab.org/blog/addiction/healing-personal- relationships-recovery/