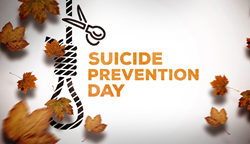 Suicide is the second leading cause of death among 15 to 29 year-olds, making early detection and prevention critical to prevention.
Marne, Michigan (PRWEB) September 14, 2016
Each September 10th the United States joins other member nations in the World Health Organization (WHO) to honor the more than 800,000 people who die by suicide each year, and re-commit to the common goal of suicide prevention. Each year since its inception in 2003, WHO adopts a theme for World Suicide Prevention Day. This year's theme is "Connect, Communicate, Care," three important components of effective prevention.
According to figures reported to WHO, every 40 seconds someone commits suicide and another 20-25 attempt. Suicide is the second leading cause of death among 15 to 29 year-olds, making early detection and prevention critical to prevention. The biggest risk factor for suicide is a previous suicide attempt. Other risk factors have some overlap with increased likelihood of addiction or substance use disorders, which is part of why Serenity Recovery is committed to assisting the community with education, awareness and prevention of suicide. Treating addiction may also help our nation reduce the number of suicides and suicide attempts.
This year's theme, "Connect, Communicate, Care," has resonance in the addiction community as well. As we "connect," we make lasting relationships in the real world. In this age of social media and digital connection, it is possible that the young people in the highest risk groups might also feel the most genuinely isolated. Connection involves community activism. Connection involves reaching out to members of our community, without judgment or stigma when understanding is most needed. Connection includes the millions of people in the United States affected by the suicide attempt or suicide death of a loved one.
As connections within communities get established, necessary we create communication as well. When it comes to suicide, just like addiction, open communication can be a challenge for many people: judgment, expectation and stigma often stand in the way. However, those who have recovered from addiction, just like those who have overcome a period of suicidal thinking or a past suicide attempt, often site open communication with a friend or loved one as a key component of successful recovery. Reaching out to a friend who has lost a family member due to suicide is a way to honor the life that was lived and grants importance to communication about this potentially difficult topic.
The way that we cover suicide in written communication, such as the media, also has an inherent responsibility. Rather than to normalize or exploit suicide, effective suicide prevention communication aims to increase empathy and sensitivity. The International Association for Suicide Prevention (IASP), in conjunction with the World Health Organization, has established guidelines for the written discussion of suicide.
The final component of this year's theme, "Connect, Communicate, Care" stems from that place of empathy: genuine connection and communication with the aim of increasing caring. Inauthentic, empty, exploitative, judgmental or duplicitous communication doesn't have a place at the discussion table. The global target set by the World Health Organization is to decrease 10% by 2020. In order to make that possible, our position of caring must be fueled on an individual basis, within our communities, with our care providers, and within the architecture of policy and policy makers.
An effective mission of suicide prevention must also include awareness of addiction. Substance abuse disorder often has an interdependent relationship with mental health. Addicts have a depression rate three to four times that of the general public. Those affected by mental illness have higher suicide rates. By assisting community members with alcohol or substance abuse disorders, we potentially decrease overall suicide rates.
In honor of World Suicide Prevention Day, Serenity Recovery encourages every community member to reach out in service. By connecting with a friend or a loved one who struggles with addiction, communicating the message that recovery is possible, and caring enough to offer community service, we can make a difference in suicide prevention.
Serenity Recovery is committed to assisting the community in both substance abuse education prevention and successful recovery. For more information, please visit the Serenity Recovery website, or call them at 1-855-218-3775.