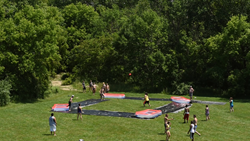 Even though it is absolutely necessary, overcoming addiction is not an easy path to take
Marne, Michigan (PRWEB) July 19, 2016
Serenity Recovery, a holistic treatment center for substance abuse located in Central Michigan, has released a new video highlighting a recent day of fun and relaxation that patients at the rehabilitation center were able to enjoy. In celebration of the changing seasons, patients and staff gathered outdoors on the facility grounds to soak up some sunshine and their newfound ability to enjoy themselves and the company of others without drugs or alcohol.
"Even though it is absolutely necessary, overcoming addiction is not an easy path to take," commented Serenity Recovery founder Per Wickstrom. "Sometimes we need to take a break and step away from the treatment program to relax and get our minds off of it. We like to give our patients a chance to just enjoy the feeling of being alive, with a clear head and light heart. Days like our Summertime Celebration are a perfect time to reflect and find joy in the simple pleasures that sobriety has to offer us."
Patient Activities at Serenity Rehab Marne
The new video release, which can be found on the Serenity Recovery YouTube channel, features footage of patients at the treatment center playing basketball, horseshoes, and Frisbee. One patient chose to enjoy his day outdoors strumming a guitar in the shade of a tree. The happiness of those patients can been seen in their bright smiles and laughing faces.
In a corresponding blog entry on their website, Serenity talks about the benefits of enjoying a day outdoors in the summer sun. "They were discovering that they could enjoy themselves again," the blog post reads. "They were realizing that they could enjoy life without drugs and alcohol. In fact, they were realizing that the reason life was so dismal and gray before was because of drugs and alcohol. Substance abuse was no escape. It was a prison."
The blog post also touched on how the patients were finding fellowship with each other, which will help them in their recovery from addiction. "The friendships that they are forming with each other will end up being the framework of a strong support network that they will rely upon to help them stay clean and sober after they return to their daily lives," the blog entry continues. "And, as they are finding the ability to form these strong interpersonal bonds with each other, they are also learning how to repair those relationships that had been damaged by their substance abuse.
The Serenity Recovery substance abuse treatment program is designed to be a path of complete lifestyle transformation. It focuses on healing each patient as a whole, in Mind, Body, and Spirit. Rather than just getting clean and sober, their rehabilitation strategy helps patients to uncover and address the underlying causes of their addictive behaviors.
Video:
https://www.youtube.com/watch?v=lWu3npVFGyA
Blog:
http://www.serenityrehab.org/blog/video/life-renewed- summertime-serenity-recovery/