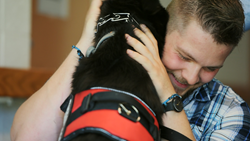 Addiction can, and often does, lead people to make some very poor decisions
Marne, Michigan (PRWEB) July 07, 2016
Serenity Recovery, a holistic treatment center for substance abuse located in Central Michigan, recently released a video that features the newest addition to the team at their rehabilitation facility – a 7-month- old German Shepard named Axel. As a certified therapy dog, Axel brightens everyone's day with compassion, care, and the kind of pure, unconditional love that only an animal can give.
"Anytime anybody's having a bad day, if they're wanting to leave, if they're wanting to go use, my job is to get to the root of that," explains Brandon Adolph, Axel's handler and the Head of Behavior Intervention at Serenity Recovery. "A lot of the people that come here have dogs at home, so they're missing their animals. They come to my office, they're having a bad day, and if they can just come in for a few minutes and play with Axel and say 'Hi', that can completely change their day around."
The video, which is available for viewing on the Serenity Recovery YouTube channel, gives viewers a look at Axel and his interaction with Brandon and the patients at the treatment center. Among other tricks, Axel can shake hands and give high fives. But his best trick, and a favorite among the patients, is giving hugs. "His favorite is to give hugs," Brandon says. "Everybody loves getting a hug from Axel."
Axel is not only a certified Therapy Dog, but he is also going through training to be a Search-And- Rescue dog. Once he reaches one year of age, he will begin training as a Scent Detection dog as well. This will enable him to help keep Serenity Recovery a drug free environment.
"Addiction can, and often does, lead people to make some very poor decisions," commented Serenity Recovery founder Per Wickstrom. "Even though they know that they are coming to our treatment center for help in overcoming their addiction, and they know that it won't be easy, some are so afraid of going through withdrawal symptoms that they attempt to sneak drugs in with them. As a substance abuse treatment center, obviously we cannot allow this. Axel will be able to help us keep our facility safe and substance-free, so that our patients can focus on the healing process."
The treatment program at Serenity Recovery takes a holistic approach to rehabilitation, viewing the Mind, Body, and Spirit as equally important in the overall health and wellbeing of their patients. They concentrate on helping the patient to get these three aspects of the Whole Self healthy and working in harmony with each other. Having Axel around to lift spirits and brighten the patient's day is very beneficial to this process, making the Serenity Recovery treatment plan that much more effective for those seeking a path to overcoming addiction.
Video:
https://www.youtube.com/watch?v=s3029kkVxXY
Blog:
http://www.serenityrehab.org/blog/rehabilitation/axel-therapy- dog-gives-patients-feeling- home/