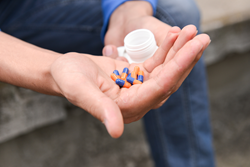 Teen drug abuse can have a permanent and lasting effect on the brain and body.
Marne, Michigan (PRWEB) August 05, 2016
Prescription drug abuse is at an all time high. Abuse of Opiate-based drugs, such as Percocet or Vicodin, have reached epidemic levels across the nation. Unfortunately, teens have not been left untouched in this wake of destruction. Not only are teens abusing these prescription painkillers, they are also using other medications, such as Xanax or Ritalin, without the supervision of a physician. In fact, studies have shown that teens and young adults are abusing prescription drugs at significantly higher rates than their adult counterparts. In an effort to prevent teen prescription drug abuse, the professionals at Serenity Recovery Center of Marne Michigan have issued a warning about the consequences of their use. This warning explains teens' susceptibility to addiction and what parents can do to prevent teen substance abuse.
The brain and body typically do not stop developing until individuals reach their twenties. As a result, teens are more susceptible to irrational decision-making and impulsive behaviors. Unfortunately, many teens manifest these poor decisions in the form of drug or alcohol abuse. Recently, with the widespread availability of prescription drugs, teens are turning to this substance at an increasingly high rate. Not only do biological factors play a role in a teen's vulnerability to prescription drug abuse, social and psychological factors are also a key component. For example, peer pressure, stress, and mental illness (such as depression) can all increase a teen's risk of developing addiction. According to Serenity Recovery Center, all of these factors have lead to a four-fold increase in adolescent prescription drug deaths since 1999.
Aside from the potentially lethal consequences, perhaps one of the most distressing factors regarding teen prescription drug abuse is the potential for permanent damage to their brains and bodies. Because of the lack of complete development, teens are at increased risk for permanent brain damage and impaired cognitive abilities. Additionally, according to Serenity Recovery Center, "Researchers have found that teens who abuse drugs, such as prescription medications, at a younger age are also more likely to battle addiction into adulthood." In other words, when teenagers use illicit substances, they are placing themselves at greater risk for addiction in adulthood, if they have not already developed a substance abuse disorder.
Fortunately, the information provided by Serenity Recovery Center will help teens and families understand the factors that put this group at a greater risk of addiction. Though these biological, social, and psychological factors make teens and young adults particularly susceptible to substance abuse, there are many ways to help young people avoid addiction. Readers will learn these techniques, including how to talk to their children about the consequences of prescription drug abuse. These tips just may help to save a life.
Abuse of prescription drugs has become an epidemic in the United States. Teenagers and young adults, being particularly susceptible to substance abuse, have been caught up in this dangerous and deadly trend. While it is important that all individuals in every community help to prevent and treat prescription drug addiction, it is especially important for vulnerable populations, such as teens. Parents can help prevent teen substance abuse by keeping an open line of communication and by educating themselves and their children on the dangers of addiction. While this may sound difficult, it is important that teens understand that parents are a resource for help when it comes to substance abuse issues.
Teen drug abuse can have a permanent and lasting effect on the brain and body. The experts at Serenity Recovery Center have seen the damaging consequences of prescription drug abuse on both teens and adults. Treating these individuals can be especially difficult, which is why education and communication are key components when it comes to prevention. When parents understand the factors behind teen prescription drug abuse and how to talk to their teens, they are effectively helping to reduce the number of addictions to prescription medications. For more information and to view recently released guide, please visit Serenity Rehab, or call them at 1-855- 218- 3775.