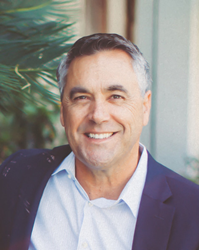 "This new role is natural for me because I believe so strongly in the people I represent." Don Tornincasa, Senior VP, Talent Acquisition
LOS GATOS, Calif. (PRWEB) March 28, 2019
Effective immediately, Don Tornincasa will transition from Regional Manager and take over as Senior VP, Talent Acquisition to ensure the company continues to attract the best agents in the Silicon Valley and Coastal markets. In this role, he will be mentoring new company management and actively meeting with agents in the community who are curious to know more about the culture of Sereno Group and might be a good fit with the way the organization conducts business.
Tornincasa joined the company in 2016 and his 29 years of experience in and around the business, as both a top-selling agent and manager, are a tremendous asset to the Sereno Group mission.
"I am enthusiastic about actively sharing our unique office culture and collaborative working environment with the surrounding real estate community. With all the change going on in our industry, I have found that agents are attracted to the outstanding reputation that Sereno Group has earned amongst the REALTORS® and residents where we work, both in Silicon Valley and on the Coast," said Tornincasa about his new role.
About Sereno Group
Sereno Group has risen to become one of the top real estate firms in the San Mateo, Santa Clara, and Santa Cruz counties by overall annual sales volume. The sales team has the distinction of having the highest per agent productivity compared to other leading brokerages in the local markets we serve. RealTrends listed Sereno Group in the top five for Closed Sales Volume per Sales Associate as compared to all brokerages in the US.
In 2006, a small group of pioneering real estate thought leaders in Silicon Valley broke free from the impersonal mega-office model and formed a regional boutique agency that now has nine offices and transacted over $3.85B in annual sales volume. Through 1% for Good, the company's philanthropic efforts formed in 2012, $2.3M has been donated to local charitable or community-minded groups. Sereno Group is the antidote to mediocre and indifferent real estate experiences.