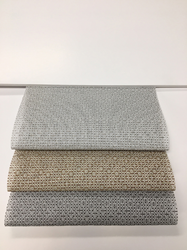 We wanted to put forward a collection that would feel sumptuous and artistic, allowing designers to draw on their own passions to create eclectic and contemporary outdoor environments.
DEERFIELD BEACH, Fla. (PRWEB) May 10, 2019
Serge Ferrari is expanding its Velio collection of sling fabrics with the introduction of its high-end Velio Luxury Designs collection. Crafted in Italy, Velio Luxury Designs evoke the devotion to precision of timeless artisanal Italian works. The company will debut the new collection during HD Expo 2019, May 15-17, in Las Vegas (booth 2151).
"Designers have come to expect stellar standards from Serge Ferrari's high-performance textiles, and we constantly strive to exceed those standards," said Laurent Pellequer, Serge Ferrari North America Market Development Manager for Furniture and Hospitality. "We wanted to put forward a collection that would feel sumptuous and artistic, allowing designers to draw on their own passions to create eclectic and contemporary outdoor environments. The Velio Luxury Designs collection is Serge Ferrari's most innovative, exclusive range of sling fabrics, and we look forward to seeing the many unique ways in which they will be applied."
Outdoor spaces are frequently viewed as an extension of the interior and expected to be as inviting, stylish and elegant. Velio Luxury Designs accomplishes this need with three ranges inspired by vintage craft, natural stone and luxurious metals to elevate design:

Panama: A timeless design taking cues from classic weaving heritage with the Panama pattern. The fabrics mix two to three colors to convey a, modern vintage look.
Diagonal: A graphic, geometrical, sophisticated design, which evokes architectural shapes and the intricacy of fine metals and jewelry.
Bohemia: Reminiscent of the rich texture and stunning appearance of natural stone.
The collection features nine opulent colors – from pink jute to marble to rose gold and more – seamlessly melding beauty and strength, redefining textiles for the modern age.
During HD Expo 2018, Serge Ferrari introduced Velio Custom Designs, an offering that allows designers to develop fresh, creative concepts and is produced in Europe on Serge Ferrari's short-run looms and coating machines. The collection invites designers to work with Velio Custom Designs consultants to develop unique color combinations, custom weaves, woven logos and shapes, and welded elements. With their artistic feel and refined color pallete, Velio Luxury Designs and Velio Custom Designs can work in concert in most any application.
In keeping with all Serge Ferrari textiles, Velio is functional as well as beautiful, and clean and easy to sanitize. The collection is UV and atmospheric agent resistant. The fabrics are also tested in compliance with REACH regulation, which assess chemical substances in both production and products to address safety and health for end-users and the environment. Velio Luxury Designs also hold a Green PVC Compound mark from the PVC Forum. The mark underscores the company's commitment to sustainability and assures that Serge Ferrari is constantly improving its production process to minimize the use of dangerous substances, plant emissions, waste production and more for a sustainable development.
Discover how Velio Luxury Designs can enrich your design at https://www.sergeferrari.com/us-en/products/velio-luxury-designs.
###
About Serge Ferrari
Serge Ferrari is a leading manufacturer of flexible composite membranes used globally for the solar protection, architectural, building facade, acoustics, modular structure, marine, furniture and visual communication markets. For the last 40 years, Serge Ferrari has paved the way for sustainable construction, energy control, protection and renewal of natural resources and design through its cutting-edge technology, including its patented Precontraint® technology that ensures exceptional long term durability through dimensional stability.