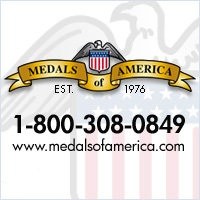 New York, NY (PRWEB) August 04, 2013
The apparel at Medals of America is well made, stylish, comfortable and guaranteed for life. The Sergeant Sara T-shirt is no exception with greatly detailed graphics and high quality construction. The feminine cut is a great draw for women and the design is completely unique. There are also many other Military T-Shirt selections to choose from in the vast inventory at Medals of America. Medals of America has an extensive clothing and accessories line in addition to their T-shirts that allows a great selection to pick from for gifts or personal gear. All of their products are backed with a lifetime guarantee.
Veteran owned and operated since 1976, Medals of America knows their industry and customers; and both are treated honorably. Medals of America has unparalleled insight into what the military community wants and needs in merchandise. Looking to bring the Veteran and active duty personnel the best, Medals of America chooses to sell high quality products that prove themselves time and time again.
About Medals of America
Medals of America is the premier source for Military Dog Tags, Navy Awards, Medals, Badges, Military Ribbons, Patches, Rank, Rates and Insignia, as well as Custom Embroidered Clothing. We're also proud to offer our exclusive Rack Builder, Military Medals Builder and Custom Display Case Builder.
Veteran owned and operated for more than 36 years! Our mission is simple - we want every Veteran and Service person to display the Medals our grateful Nation awarded them. Anything we can do to have all the great Americans who served their country in the Military Forces display their award will enrich future generations by these symbols of Duty, Honor and Country.
Medals of America
114 Southchase Boulevard
Fountain Inn, SC 29644
800-308-0849