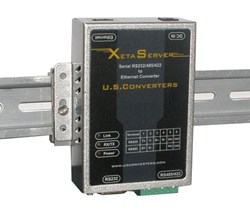 New affordable serial RS232 to Ethernet converter released by U.S. Converters LLC.
(PRWEB) September 17, 2013
U.S. Converters LLC, a leading developer of serial data communication devices and M2M communication for industrial and commercial environments, today released its latest version of the industrial-grade serial Ethernet converter model XS1000, an affordable 1-port serial device server used for connecting serial RS232, RS485 or RS422 devices to a computer over a LAN network. With its small panel mount metal housing, it is an ideal solution for easy installation in electrical junction boxes, cabinets and other small spaces as well as installation on standard DIN rails by using DIN mount adapters.
The combination of an operating temperature range of -20 to 60°C, the built-in RS232, RS485 and RS422 interfaces and a solid 25Mhz 8051 CPU with 64KB OTP ROM and 32K bytes SRAM ensures the serial Ethernet converter is compatible with most industrial serial protocols and the majority of serial devices.
The XS1000 supports the TCP/IP, UDP, DHCP, PPPoE, Dynamic DNS protocols and can be managed over a local Ethernet network or over the Internet by using a standard web-browser. It comes included with virtual COM software which is compatible with Windows XP, Vista, Windows 7, Windows 8 and Linux. The virtual COM port software creates a virtual COM port in a computer's Device Manager which then can be used as if it was a built-in COM port.
Although this is a basic entry-level serial Ethernet converter several advanced configurations are supported including serial tunneling mode, tunneling mode over LAN and communication without virtual COM software.
This entry-level serial Ethernet converter is priced at $64.50 MSRP, it has a 2-year warranty and is available directly from U.S. Converters LLC and all of its distribution partners: http://www.usconverters.com/index.php?main_page=product_info&cPath=66&products_id=225.
About U.S. Converters LLC
Founded in 2006, U.S. Converters LLC specialize in affordable serial communication devices for industrial, commercial and consumer environments. The company provides solutions, products and technical support for wired and wireless based serial RS232, RS485, RS422, Ethernet, USB, Bluetooth and Wi-Fi data communication. Globally, the company is known for its easy to use and reliable serial networking products, technical support and responsive customer service. U.S. Converters LLC is located in Arizona USA and online at http://www.usconverters.com.